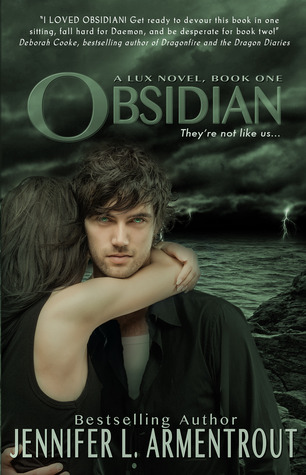 Actual Rating: 4.25 stars
Obsidian was a ride.
Summary from Goodreads: Starting over sucks. When we moved to West Virginia right before my senior year, I'd pretty much resigned myself to thick accents, dodgy internet access, and a whole lot of boring… until I spotted my hot neighbor, with his looming height and eerie green eyes. Things were looking up.
And then he opened his mouth. Daemon is infuriating. Arrogant. Stab-worthy. We do not get along. At all. But when a stranger attacks me and Daemon literally freezes time with a wave of his hand, well, something… unexpected happens.
The hot alien living next door marks me.
You heard me. Alien. Turns out Daemon and his sister have a galaxy of enemies wanting to steal their abilities, and Daemon's touch has me lit up like the Vegas Strip. The only way I'm getting out of this alive is by sticking close to Daemon until my alien mojo fades.
If I don't kill him first, that is.
Story: The story was perfectly paced, and nicely written. Armentrout's writing isn't too simplistic or tedious, it has just the right amount of everything. I would have preferred the book to be a little more longer, and I do think Katy should have found out about the twins' situation a little later in the book, but that's fine. What I love overall about this book, was just the overall sense of humor. I loved how something really serious happens and everyone just starts laughing. Even though it was a bit unrealistic, it made me feel really happy. 🙂
Characters: I loved each and every character in this book, even the mean-ish ones(for some reason).
I absolutely loved Katy. She's not afraid to do what she wants and when someone pisses her off, she takes action. I enjoyed her stubbornness, and I did like how it didn't always work out for her. She is also funny and witty as hell, and she's a book blogger! I could relate to her in many aspects, and not just her life, but we thought the same too!
Thank the lord for Daemon Black! Even though he was douchebag at first, I grew to love him because even though he was hot, he was not perfect and he had personality. He kept his arrogance throughout the book, and I loved every second of it.
The Romance: Normally I would characterize this kind of romance as unhealthy, but Daemon and Katy kept me so engaged. Their constant jabbing at each other, was so entertaining and funny, and I loved how even though Katy knew Daemon was quite good-looking(to say the least), she never let that aspect influence what she really thought of him. Eventually Katy saw the real Daemon, and they each fought within themselves for their feelings for one another. Another thing I loved about this was how unclear it was at the end. We don't know by the end of the book whether they get together or not, which only makes me want the next book sooner!
The only thing I did not get, is why a set of twins and another set of triplets would move to a little town in West Virginia around the same time. Not to mention they are both ridiculously hot. That seems really weird and irrational since they are trying to hide themselves.
Overall, I enjoyed this book, and I am looking forward to reading the next one. I am interested to see where Armentrout takes her simple idea of aliens and how she expands on it. I recommend this book to everyone!