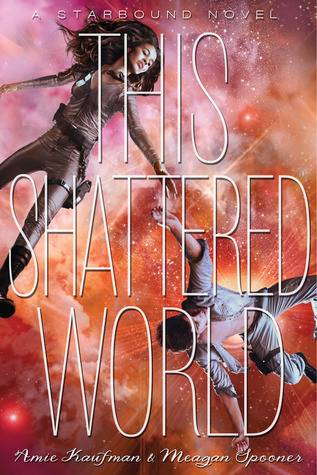 Rating: 4.75 Stars
Those of you who expected more sci-fi out of These Broken Stars, you won't be disappointed.
Wow. I loved TBS, but this book might be even better. Wonderfully written, Kaufman and Spooner managed to captivate me again.
This Shattered World Starts off 8 months after the Icarus crash, with Jubliee Chase, a strong, fierce captain whose ruthless reputation makes her a target for Flynn Cormac, the leader of the rebels and younger brother of the martyr who started the the rebellion. Both our narrators/main characters are deep, complex characters, and the narration doesn't suffer from both the narrators sounding the same, something common with dual perspectives.
One issue I had with These Broken Stars was the lack of sci-fi elements and surplus of exposition. Once you read this book, you'll realize that while TBS was amazing, it doesn't focus on the actualenemy, whereas TSW falls right into the action, with the rebellion, war, and enemy.
We also see the continuation of many unclear elements from TBS as well. The whispers, LaRoux, and exactly what is going on in this sci-fi world is explained further, although it's still a bit murky, but I'm not complaining, hopefully we'll get some clearer world-building in the next book.
Those of you who are fans of romance will enjoy this book as well. One thing I love about this series is that there is no insta-love, although the plot is romance-driven, it is slow and takes care to put other elements of the story first, and not focus entirely on the romance. In fact, I liked this romance even more than TBS, as the external conflict takes more precedence and we don't get sappy scenes that make me want to roll my eyes. We also see Tarver and Lilac in this book, and I will admit, I was jumping up and down squealing and fangirling over them.
This Shattered World is an intense, action-filled read that surpasses TBS in sci-fi elements, world-building, and romance. Highly recommended for those who liked TBS, even those who disliked TBS, as TSW will not disappoint.
~Aliza