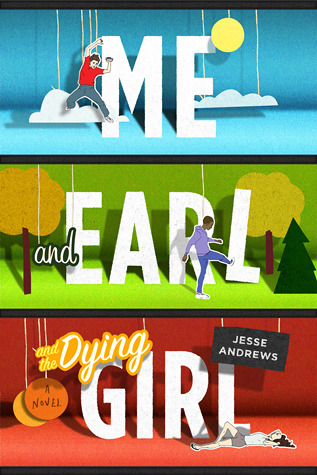 Rating: 2 stars
Blurb: Greg Gaines is the last master of high school espionage, able to disappear at will into any social environment. He has only one friend, Earl, and together they spend their time making movies, their own incomprehensible versions of Coppola and Herzog cult classics.
Until Greg's mother forces him to rekindle his childhood friendship with Rachel.
Rachel has been diagnosed with leukemia—-cue extreme adolescent awkwardness—-but a parental mandate has been issued and must be obeyed. When Rachel stops treatment, Greg and Earl decide the thing to do is to make a film for her, which turns into the Worst Film Ever Made and becomes a turning point in each of their lives.
And all at once Greg must abandon invisibility and stand in the spotlight.
At the end of this book I wanted to be like:
But I ended being like:
I am disappointed, so very disappointed. Usually when I rate a book 2 stars or lower, I hate the book, and I will possibly rant about it for hours. But now, all I feel is a severe sadness. After looking at all the 5 star reviews and watching the oh-so-perfect movie trailer, I was so sure Me And Earl And The Dying Girl would be The One. I have never been more wrong in my entire life.
My thoughts are so jumbled, where do I even start? This book was basically one long characterization of the main character, Greg. There was a very thin plot, and most of the story consisted of endless back story of our characters. It mostly focused on what happened before the actual events that the author wants to talk about, and there was very little happening in the actual events that the author wanted to talk about! I hate saying this, but it felt like the author was expressing his own thoughts and personality in the voice of a character, Greg. It felt obvious to me, because all the author did was expand on the characters' background and keep on expressing their thoughts rather than actually writing a story.
All lot of people are saying that  Me and Earl is funny, and it is, but at points it is so prolonged and overdone, that it becomes annoying. Greg says something funny, and then he just keeps on elaborating and elaborating. I think Greg's thoughts are funnier and more real than what he says out loud. I really don't know what to say about the characters.  I can't say I liked Greg, but he was funny and did learn something at the end(sort of). But mostly, I felt sorry for him. Greg thought he couldn't live up to anything, so all he did was endlessly try to make people laugh. He might be annoying at some times, but I kind of liked this trait of him. Earl was an obvious stereotype, but he did stick out a little bit throughout the book.  I liked how he was an unlikely hero, he surprisingly advised Greg, and taught him things in… different ways (most of them involve cussing). I wish I knew more about Rachel, because she was barely explored and it seemed she had a lot to give.
Overall, Me And Earl And The Dying Girl, will either be a hit or miss for you. If you like very realistic stories, with a whole lot of humor in the face of a serious situation, then check this one out.  It's been a hit for a lot of people, so give it a try, and tell me what you think.
This review can also be found on my Goodreads here.
-Haven