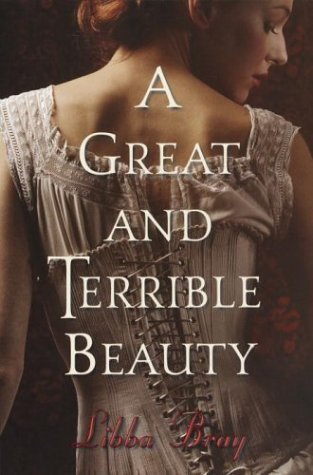 Rating: 4 stars
"Because you don't notice the light without a bit of shadow. Everything has both dark and light. You have to play with it till you get it exactly right."
A Victorian boarding school story, a Gothic mansion mystery, a gossipy romp about a clique of girlfriends, and a dark other-worldly fantasy—jumble them all together and you have this complicated and unusual first novel.
Sixteen-year-old Gemma has had an unconventional upbringing in India, until the day she foresees her mother's death in a black, swirling vision that turns out to be true. Sent back to England, she is enrolled at Spence, a girls' academy with a mysterious burned-out East Wing. There Gemma is snubbed by powerful Felicity, beautiful Pippa, and even her own dumpy roommate Ann, until she blackmails herself and Ann into the treacherous clique. Gemma is distressed to find that she has been followed from India by Kartik, a beautiful young man who warns her to fight off the visions. Nevertheless, they continue, and one night she is led by a child-spirit to find a diary that reveals the secrets of a mystical Order. The clique soon finds a way to accompany Gemma to the other-world realms of her visions "for a bit of fun" and to taste the power they will never have as Victorian wives, but they discover that the delights of the realms are overwhelmed by a menace they cannot control. Gemma is left with the knowledge that her role as the link between worlds leaves her with a mission to seek out the "others" and rebuild the Order. A Great and Terrible Beauty is an impressive first book in what should prove to be a fascinating trilogy.
I started out A Great And Terrible Beauty like I would start out any Victorian-Era book, expecting drama, a school teaching women how to be polite and "womanly", and of course, there was a whole load of sexism. The story starts out with a blast of action, Gemma witnessing her mother die in a dark matter she can't quite understand. The pacing of the book is great, it adds chick lit elements into an eerie steampunk aura. The mystery throughout the book is actually quite interesting, I wasn't as invested in it at first, but it certainly drew me in. The writing is definitely very pretty, and is delightfully british (I don't know if that made sense).
I loved Gemma's dryness and detachment at the beginning of the book, it definitely proved her a witty and a can-think-for herself character. Although this got a little annoying, because Bray made it feel like she was the only girl at Spence with common sense, but I loved her anyway. I never seemed to get bored of her, and she did have some character development. The other girls really got on my nerves at first, like all 19th century girls. They preached on and on about how women were supposed to be this and that, and of course they got all mean-girly on Gemma. But what I loved was how Bray created separate backstories for them, in order to feel sympathy and actually like them. They all went through some major character development, and eventually proved themselves to be completely different people.
The fantasy elements are certainly interesting and captivating. Gemma and the girls slowly uncover the mystery behind everything, and eventually find their part in the whole extravaganza. Bray definitely did her research and explained her world perfectly without it sounding overbearing.
Overall, A Great And Terrible Beauty will appeal to chick lit and steampunk/fantasy fans. Bray combines both genres with ease, paving its way for an action-packed sequel. You'll definitely find me with the next book in hand, Rebel Angels, soon.
You can also find this review on my Goodreads here.
-Haven