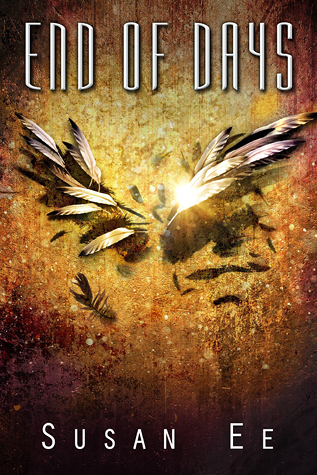 Rating: 3.75 – 4 stars 
*sighs dramatically*
Summary: End of Days is the explosive conclusion to Susan Ee's bestselling Penryn & the End of Days trilogy.
After a daring escape from the angels, Penryn and Raffe are on the run. They're both desperate to find a doctor who can reverse the twisted changes inflicted by the angels on Raffe and Penryn's sister. As they set off in search of answers, a startling revelation about Raffe's past unleashes dark forces that threaten them all.
When the angels release an apocalyptic nightmare onto humans, both sides are set on a path toward war. As unlikely alliances form and strategies shift, who will emerge victorious? Forced to pick sides in the fight for control of the earthly realm, Raffe and Penryn must choose: Their own kind, or each other?
I don't know what to say. I really don't. I was never planning to add End Of Days to my pile of "disappointing conclusions", but look how things worked out! Like Aliza, I practically worshipped Susan Ee. After reading Angelfall, I rambled on and on about it to anyone near me, until I met up with Liz again, and we rambled even more about its epicness. World After was not as good, but still amazing, and that got me even more pumped up for End Of Days. I liked this book, really, but I am somehow still feeling a little disappointed and underwhelmed.
End Of Days starts immediately after World After. The crew's goal is to get Raffe and Paige fixed up, so before they go to find Doc they find shelter in order to be safe for a few days. The story was captivating enough, everything seemed to make sense. The sad thing is, although the story was engaging… I didn't really feel anything. In other words, I wanted "the feels", and I got none. I wanted this book to be brimming with emotion, because Susan Ee writes emotion really well. I'm not the kind of person who likes really emotional love stories, but I wanted something. Remember the ending of Angelfall? Remember when Raffe and Penryn met again in World After? I wanted to feel the same way I felt when reading those moments.
Now, the characters:
Every teenage girl is bound to get somewhat swoony and ditzy, once in a while. I mean, come on! It's perfectly normal to look at a guy and think that he's hot, really! This didn't happen as frequently as I anticipated, but… it happened. I didn't mind that. Penryn remained her brave, independent self throughout this book. Even though she liked Raffe, I liked how she thought practically and regarded Raffe as the enemy when it came to protecting her family and the people at the resistance. Yes, she made mistakes, stupid mistakes, but nobody's perfect right? People make mistakes, and although Penryn didn't kick as much butt as I wanted her to, she remained human. Sadly, Raffe was a disappointment. Throughout the book, all I could think was:
I should have known this wouldn't last. Once the snarky, sarcastic guys find their love interest, they all become full-out saps, basically reciting love poems and making out with their love interest every ten minutes. It wasn't too severe with Raffe (thank the lord), but I just never knew it would happen to him of all people. Raffe was one of the most hilarious characters of all time, and was very close to stealing the title of "Favorite Male Character" from Will Herondale. That is a very big deal, my friends.
The largest let-down of this book, was the utter lack of SNARK. Penryn and Raffe were famed for their wittiness and comebacks, and a major factor that made Angelfall a success was their constant banter and the unique humor throughout the story. This is precisely what made it hard for me to continue reading End Of Days, it was so unfunny. Humor plays a big part in books for me, I love to laugh, and a book with no humor whatsoever is not worth reading for me. Almost all my favorite books have a substantial amount of humor, and if some books that miss that factor somehow made it onto my favorites list… they simply got lucky. This is a huge disappointment with this book especially, because the previous books were not only thrilling and exciting, they were hilarious. The only source of humor came from Dee and Dum, the Watchers (Can we please get a Watchers novella? I love these guys.), and the last few pages of the book.
Susan Ee steps it up with the goriness and blood in this book, the action scenes and sequences were so much more intense.
Overall, I would say that End Of Days was an average conclusion in the fashion of an average PNR book, which sucked since Angelfall was never an average PNR book. I would suggest you read the whole series, but after finishing Angelfall and World After, remember to just wallow in your happiness for a little while and appreciate those books, because it's possible you won't get the "explosive" conclusion you wanted in End Of Days. 
This review can also be found on my Goodreads account here.
-Haven