Rating: 4 Stars
Belly measures her life in summers. Everything good, everything magical happens between the months of June and August. Winters are simply a time to count the weeks until the next summer, a place away from the beach house, away from Susannah, and most importantly, away from Jeremiah and Conrad. They are the boys that Belly has known since her very first summer–they have been her brother figures, her crushes, and everything in between. But one summer, one terrible and wonderful summer, the more everything changes, the more it all ends up just the way it should have been all along.
I've been hearing a lot about Jenny Han especially from the books To All The Boys I've Loved Before and Burn For Burn, which are very popular in the contemporary YA world. So, I decided to pick up her second novel and I was pleasantly rewarded with a story of summer, friendship, and finding yourself.
I thought the overall plot of the story was a little vague, but it eventually summed up to be pretty clear at the end. Han added vital scenes and information at the right points, and that really added a lot of emotion to the story. Han's writing can get kind of annoying sometimes; she tends to add a quote, and then give a fact about the person saying it, which continues for a few paragraphs. However, the writing is usually brimming with emotions and Han has a specialty of giving the characters life and make them pop out of the page. I found the ending to be a little confusing and unsatisfying, because I wasn't exactly sure if Belly got what she wanted at the end, but I kind of liked it anyway. The overall message of this book was very realistic; stuff happens and people change. At least, that's what I got out of it.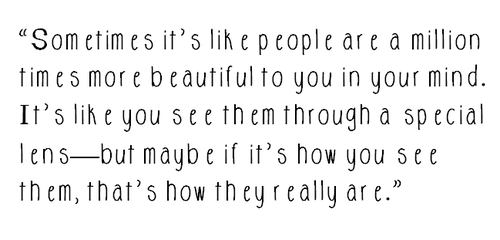 This is one of those books in which the main character can make it or break it for you. Belly is a witty and interesting teenager, but she can also be very selfish and rude. Over the course of the book I got a bit annoyed with her tactics as she switched from boy to boy, and you'll see that it annoys some other characters as well. It made me want to yell "JUST PICK ONE". I really didn't like how she was overly preachy when it came to the guys, and it was hard to believe she no female friends whatsoever. She also disrespected many people, because they didn't benefit her in any way. Despite these things, I still liked Belly. All of her personality traits made her human, and yes, you may not like her, but you can't like everybody. What is important is that she grows, and develops into a more mature person, which hopefully happens in the next two books. Plus, at the end of this book, you can't deny that she learned a thing or two.
The boys were great. I loved their personalities, and how they didn't outshine each other. I was interested in Jeremiah, as well as Conrad. Jeremiah was hilarious and witty, and Conrad was quiet and mysterious. I especially loved when the boys didn't appear to be the way they were, when their strength was put to the test. It showed they had emotions and inner conflicts, which should be more abundant in plot-driven novels as well as character-driven ones. Hopefully we'll see more Steven in the next books, because he was great while he stayed. I think the minor characters needed a little work, such as Belly's mother and Cam, but they were great as well.
Overall, The Summer I Turned Pretty is a story of growing up, finding your inner strength, and embracing a friendship that will last a lifetime. I would recommend this to fans of character-driven novels and contemporary YA with a deeper meaning.
-Haven