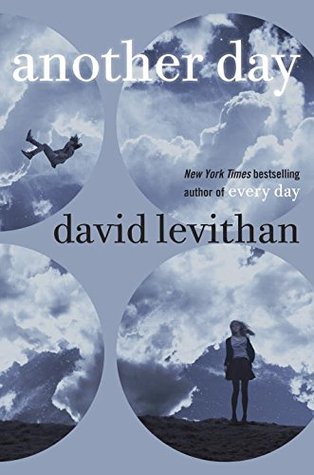 3.5 Stars
The Blurb: The eagerly anticipated companion to David Levithan's New York Times bestseller Every Day
In this enthralling companion to his New York Times bestseller Every Day, David Levithan (co-author of Will Grayson, Will Grayson with John Green) tells Rhiannon's side of the story as she seeks to discover the truth about love and how it can change you.
Every day is the same for Rhiannon. She has accepted her life, convinced herself that she deserves her distant, temperamental boyfriend, Justin, even established guidelines by which to live: Don't be too needy. Avoid upsetting him. Never get your hopes up.
Until the morning everything changes. Justin seems to see her, to want to be with her for the first time, and they share a perfect day—a perfect day Justin doesn't remember the next morning. Confused, depressed, and desperate for another day as great as that one, Rhiannon starts questioning everything. Then, one day, a stranger tells her that the Justin she spent that day with, the one who made her feel like a real person . . . wasn't Justin at all.
Ok, first of all, this is a companion, not a sequel, because it's the same story as Every Day, just from a different point of view. Although you can read the books in any order, I would highly recommend (correction: tell you) that you first read Every Day before you read this book; in fact, even before you read this review.
Before I can explain my feelings for Another Day, let me first explain to you Every Day. Every Day is about A, a teenager that switches bodies every day, taking over the body of another teenager for a day. He (I'm gonna call A a "he," even though "he" has no gender) tries to lay low and make no impact on the lives he inhabits, that is, until he spends a day in the boyfriend of Rhiannon, and falls in love with her.
Every Day is about love of the person underneath, no matter what their gender or physical personality, and that holds true for Another Day as well. What I love most about both books is the powerful message within them, speaking of love and life and the impact we can make on people's lives. They speak of equality, how we are a lot more similar than we think, and how love is all the same, no matter the race, religion, or sexual preference. However, while I can describe Every Day as nearly perfect, I cannot say the same for Another Day, even though it's the same story.
Another Day is told from the point of view of Rhiannon, and we get a first-hand look at her struggle to love A for who he/she is, to move past physical appearance and love the person underneath. It's very raw and real, and shows a side of the story we could not completely see in Every Day.
However, Rhiannon's story is a lot more mundane, and we have to read through a lot more everyday happenings that frankly, are not nearly as interesting as A's side of the story. Both voices are likable and real, but reading about how A copes with adjusting to a new life every day makes even the smallest events interesting, while the small events in Rhiannon's life just seem… small.
I was also incredibly irritated with her denial about her boyfriend at times, but overall, I have no complaints about her character. She's flawed, and handles the discovery of A as well as can be expected, much better than I would, at least. The advantage of this being a companion novel is that all the characters have already been developed in Every Day, there's no need to develop them further in the same story.
I'm not entirely sure what made me not like this as much as I like Every Day, but I suspect that it's a combination of the fact that I already know the ending, the different POV, and having to receive the most interesting part of this book's concept (the switching lives) secondhand, instead of firsthand, as A experiences them.
Honestly I'm being a bit too harsh on this book. On it's own, it's a wonderfully written, well thought novel, but as it is the same story as Every Day, it's next to impossible to not compare the two. My suggestion is that you read this book; just read Every Day first. Another Day has most definitely not lowered my love for A and Rhiannon's story; in fact, it's done the opposite. Both are a must-read for all YA readers, and even those who hate reading, because these are powerful books that will stay with you forever.
Thank you to the publisher and NetGalley for providing an advance copy for this review.
~Aliza