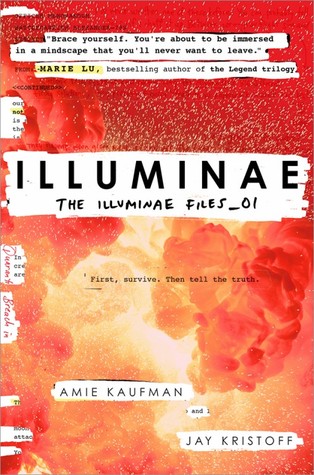 Rating: 5 Stars
The Blurb: This morning, Kady thought breaking up with Ezra was the hardest thing she'd have to do.
This afternoon, her planet was invaded.
The year is 2575, and two rival megacorporations are at war over a planet that's little more than an ice-covered speck at the edge of the universe. Too bad nobody thought to warn the people living on it. With enemy fire raining down on them, Kady and Ezra—who are barely even talking to each other—are forced to fight their way onto an evacuating fleet, with an enemy warship in hot pursuit.
But their problems are just getting started. A deadly plague has broken out and is mutating, with terrifying results; the fleet's AI, which should be protecting them, may actually be their enemy; and nobody in charge will say what's really going on. As Kady hacks into a tangled web of data to find the truth, it's clear only one person can help her bring it all to light: the ex-boyfriend she swore she'd never speak to again.
Told through a fascinating dossier of hacked documents—including emails, schematics, military files, IMs, medical reports, interviews, and more—Illuminae is the first book in a heart-stopping, high-octane trilogy about lives interrupted, the price of truth, and the courage of everyday heroes.
This is probably one of the most difficult reviews I've ever written, because I don't know exactly what to say. Illuminae is so unlike anything I've ever read before, that I feel that reviewing it as I would any other book wouldn't do it justice. I struggled with rating this book, because I was so caught up in my own swirling mass of emotions. Illuminae is confusing and terrifying, and so, so good.
Illuminae is a about an intergalactic war over natural resources. While the blurb sounds fascinating, the first thing I have to say is that it is not an accurate representation of the book, meaning it does not do the book justice. Illuminae is not a typical sci-fi novel; it is so much more. Kristoff and Kaufman's styles blend seamlessly into a beautiful, heart-wrenching story, not only about lovestruck teenagers, but about the world, and how just the slightest disturbance can fling it into chaos.
The best aspect of this book was its method of storytelling. As mentioned in the blurb, Illuminae is told through a dossier of hacked documents, and while this style could potentially end up confusing for the the reader, Kaufman and Kristoff pull it off. Really, really well. As this isn't straightforward narration, you end up having to put together some of the pieces yourself, so to speak, creating a coherent story for yourself from the puzzle pieces so masterfully left for us. I ended up having to flip back and forth between sections as I remembered an earlier document that answered a later question, figuring out the mysteries for myself. What this does, despite being a bit of extra work, is a personal involvement with the story. I found myself being genuinely scared for the characters at times, truly caring about what happened. I would have to remind myself that the story wasn't real, something that's usually automatic with fictional stories. The fact that Illuminae made me feel this way is an accomplishment in itself, and for that, this book has automatically made my favorites list.
However, while the storytelling is superior in almost every way, one thing that must be sacrificed from telling a story through documents is the personal thoughts of the characters. While we can deduce our characters are feeling through what they say in interviews and IM chats, we're kind of left in the dark for a lot of it. Honestly, for me, I liked how our characters were a bit of a mystery as well, but some other readers might want to be more personally involved with the characters than they are in this book.
Kady and Ezra are typical teenagers, but they're also not. They're both strong individuals, but they don't let their feelings get in the way of the bigger picture. I loved every little insight into their minds, and I also loved how they didn't dominate the book; there were wonderful side characters that I truly came to care for as well.
I am normally a character-driven reader, but for once, I didn't care that there was more emphasis on the plot than the characters. It was so fast and suspenseful, I was not physically capable of putting this book down. I mentioned above that I was really into the story, and could not be more true. I felt dread when something bad was about to happen. I was sad when something sad happened. At times, I couldn't figure out whether this book was a romance, a plague/zombie novel, or a robot revolution sort of story, when I realized that it was a bit of everything. And that is the best kind of book of them all.
My only problem with this book was that it felt too short, despite being a 608 page book. I would have liked to learn more about the Core, the companies in the war, and the world in general. However, I am sure this will be built upon in the next novel, which I am eagerly awaiting.
Overall, Illuminae was a beautiful, confusing, thrilling, and phenomenal novel. I do hope Amie Kaufman and Jay Kristoff continue to collaborate on more than just this series, because I will devour anything else they write. And to you readers out there, add this book onto your to-read list and get it as soon as it comes out- because you don't want to miss it.
Thank you to the publisher and NetGalley for providing an ARC in exchange for an honest review.
~Aliza