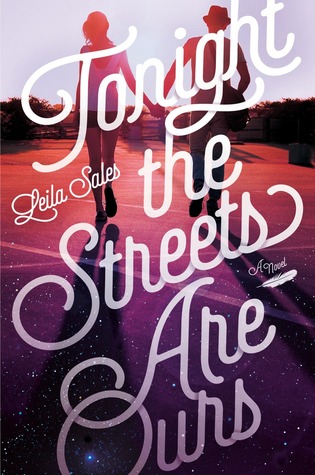 Rating: 4.25 stars
"If you're going to have the tortured soul of an artist, then you might as well create some art while you're at it."
Recklessly loyal.
That's how seventeen-year-old Arden Huntley has always thought of herself. Caring for her loved ones is what gives Arden purpose in her life and makes her feel like she matters. But lately she's grown resentful of everyone—including her needy best friend and her absent mom—taking her loyalty for granted.
Then Arden stumbles upon a website called Tonight the Streets Are Ours, the musings of a young New York City writer named Peter, who gives voice to feelings that Arden has never known how to express. He seems toget her in a way that no one else does, and he hasn't even met her.
Until Arden sets out on a road trip to find him.
During one crazy night out in New York City filled with parties, dancing, and music—the type of night when anything can happen, and nearly everything does—Arden discovers that Peter isn't exactly who she thought he was. And maybe she isn't exactly who she thought she was, either.
I've been patiently waiting for this book to come out ever since I discovered it on Goodreads, so you can't imagine the look of joy on my face when I picked this off the shelf of the public library. I had high expectations for a book with such an exciting premise, and I was not disappointed.
The plot was reasonably paced. I remember in Sales' previous novel, the main character's history is barely introduced yet she is taking large actions already, so it was hard to comprehend the personality and background of the character. In TSAO, the characters are introduced slowly, but also thoroughly. The plot is slow enough to understand each and every character, but not slow enough to be boring.
My first experience with Leila Sales was her debut novel This Song Will Save Your Life, and although the story was nice, I had a hard time connecting with the characters. Fortunately, I could not say the same for this one. The characters really stood out for me, and what I loved most about them, was that they had depth. Their personality and layered nature was written very subtly, and the ways that the characters learned lessons and grew was quite cleverly written. I absolutely loved Arden, starting from page one. She was relatable, smart, and an interesting protagonist. She was clever and quite funny, I loved her little quirks and commentary about her family and life in general. After reading TSAO, I realized that this book was purely Arden. The side characters, Lindsey and Chris, are there as people to help her grow and learn, so this is a very main character focused book. This method did bother me somewhat, but it did improve my connection with the main character amazingly well. Trust me, you'll be fine with it.
The relationships in the book were also realistically portrayed, and in ways kind of sad, because the realistic-ness of it brings out the unfairness and sadness in life. I honestly think that this aspect made the book special. Throughout the book, there is always a layer of hopelessness, the reader knows that things won't turn out the way it should. But, the characters are portrayed realistically enough to have funny personalities and possibilities of growth in order to make the book entertaining and interesting to read.
Overall, I would recommend this book to contemporary lovers and anyone who wants realistically portrayed characters. You won't regret reading it.
-Haven