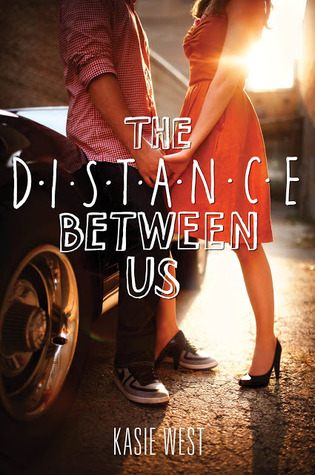 Rating: 4.25 stars
"Feelings can be the most costly thing in the universe."
Seventeen-year-old Caymen Meyers studies the rich like her own personal science experiment, and after years of observation she's pretty sure they're only good for one thing—spending money on useless stuff, like the porcelain dolls in her mother's shop.
So when Xander Spence walks into the store to pick up a doll for his grandmother, it only takes one glance for Caymen to figure out he's oozing rich. Despite his charming ways and that he's one of the first people who actually gets her, she's smart enough to know his interest won't last. Because if there's one thing she's learned from her mother's warnings, it's that the rich have a short attention span. But Xander keeps coming around, despite her best efforts to scare him off. And much to her dismay, she's beginning to enjoy his company.
She knows her mom can't find out—she wouldn't approve. She'd much rather Caymen hang out with the local rocker who hasn't been raised by money. But just when Xander's attention and loyalty are about to convince Caymen that being rich isn't a character flaw, she finds out that money is a much bigger part of their relationship than she'd ever realized. And that Xander's not the only one she should've been worried about.
The Distance Between Us may sound like a normal contemporary romance, but let me just tell you that it is not. I believe this book is miles more enjoyable than any regular YA contemporary due to a few things that can make a huge difference.
This story centers around our main character, Caymen, and her mother. Caymen has grown up around the fact that wealthy people are no good and untrustworthy, something that her mother has possibly drilled into her head after being abandoned by her rich ex-boyfriend, who left Caymen's mother to fend for her newborn daughter by herself. The book picks up immediately by introducing Xander Spence on the first page, a charming 17-year old, who has been surrounded by money his entire life. Caymen knows inside that Xander won't be around her for a long time, but as she begins to spend more time with him she starts to realize Xander isn't exactly who she thought he was.
Although the plot and storyline are a little hard to see, there is a plot and there is a storyline. The story is paced a little slowly, taking time to know each character and develop the romance, but at the same time, it isn't boring at all. The writing is simple, funny, and ultimately heart-warming and relatable.
I absolutely ADORED the characters. I can't put into words how refreshing they were from the regular, oh-so-cliche females and males in contemporary romances. I have a total girl-crush on Caymen, because how could you not? She was snarky, outspoken, independent, smart, and straight-out hilarious. Even though her dry humor might not be for every reader, it adds something really special to the pages of this book that I think a lot of other contemporaries miss out on. Although she is seen as dry and sarcastic, West also explores her vulnerabilities and flaws. The flaws are added in subtely, but are also expanded on to make Caymen an overall real and relatable personality. Caymen is a bit of a wanderer, and is often found wondering what she really wants to do with her life. I could really relate to this personality trait, and I think a lot of other teenagers would be able to as well. Xander was a beautifully written character as well. He was charming, adorable, flawed, and a great match for our Sarcasm Queen. 🙂 I would consider him a very balanced and diverse character, since there is no cliche or stereotype attached to him (somewhat of a rarity in contemporaries).
The romance can only be described as perfection. It's really adorable and sweet, but not too sweet enough to turn the book into a cheese-fest. Xander and Caymen's conversations weren't awkward to read, because they weren't cheesy and unrealistic. Even when a serious topic is approached, the dialogue is handled in a realistic and easy-going way. You would expect them to turn into total cheeseballs when they confirm their relationships (between themselves, of course), but even THAT is handled in a honest and real way.
Overall, if any of you are looking for a different and hilarious YA contemporary read…READ THIS BOOK. Even if you aren't in the mood for a contemporary right now, I definitely suggest to pick it up in the future. 🙂
-Haven