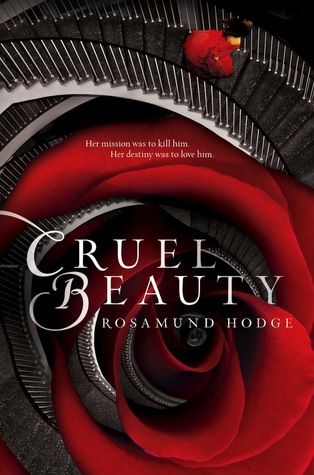 Rating: 4 Stars
Graceling meets Beauty and the Beast in this sweeping fantasy about one girl's journey to fulfill her destiny and the monster who gets in her way-by stealing her heart.
Based on the classic fairy tale Beauty and the Beast, Cruel Beauty is a dazzling love story about our deepest desires and their power to change our destiny.
Since birth, Nyx has been betrothed to the evil ruler of her kingdom-all because of a foolish bargain struck by her father. And since birth, she has been in training to kill him.
With no choice but to fulfill her duty, Nyx resents her family for never trying to save her and hates herself for wanting to escape her fate. Still, on her seventeenth birthday, Nyx abandons everything she's ever known to marry the all-powerful, immortal Ignifex. Her plan? Seduce him, destroy his enchanted castle, and break the nine-hundred-year-old curse he put on her people.
But Ignifex is not at all what Nyx expected. The strangely charming lord beguiles her, and his castle—a shifting maze of magical rooms—enthralls her.
As Nyx searches for a way to free her homeland by uncovering Ignifex's secrets, she finds herself unwillingly drawn to him. Even if she could bring herself to love her sworn enemy, how can she refuse her duty to kill him? With time running out, Nyx must decide what is more important: the future of her kingdom, or the man she was never supposed to love.
I don't think a 100 gifs could explain what emotions I went through while reading Cruel Beauty. It had me like this:
Like this:
Like this:
Like this:
And a million more emotions in between.
If I were to describe Cruel Beauty in one word, it would be: engrossing. The enjoyability rate is high, and I was constantly on the edge of my seat. The writing is no joke, it flows perfectly and is some of the most beautiful writing I've seen all year. The entire novel has a dark, nightmarish tone to it, which I enjoyed. The world-building was very intricate and interesting, but also the reason I docked off a star from my rating. The book is set in an ancient Greco-Roman type world, with magic, mythology, and such. Although it was all very well-developed, it often perplexed and confused me. There were a lot of stories, terms, and other specific things that were hard to keep up with. The story was extremely illustrious and captivating, but also so, so complicated.
Nyx is slowly becoming one of my favorite heroines of all time. I can understand why you might hate her. She's bitter, envious, angsty, and a hot mess (but aren't we all hot messes?). But these are all the reasons that I love her. Nyx's emotions are raw, I've never seen a heroine pity herself, hate herself, and understand and fight against their own weaknesses as realisitic and honestly as Nyx has throughout this entire book. She has every reason to hate her family, the people who raised her to be sacrifice. These are the people she has served and cared for her entire life, the people who never acknowledged her deeds and love for them. Her feelings and emotions go back and forth from the conflict of what type of person she wants to be, ultimately succumbing to the obvious choices she has to take in order to get what she wants… whilst hating herself for it. She's determined, angry, and defiant… and also descructive, flawed, and vulnerable. At the end of the day, she just wants to be a normal human being who wants to be loved someone, after being perpetually ignored and neglected by everyone around her.  This type of raw, human, and realistic character is rarely done right when attempted by many authors, and I am so glad to find that Hodge has finally accomplished this in a great way.
Ignifex was a little harder to understand, obviously. I had high expectations for this villian (in terms of character), after reading the summary. Hodge has to write characters well enough to make Nyx and the reader fall in love with Ignifex. Nyx is obviously in love (of course), and although it was a rough ride, I have developed a strong liking for Ignifex as well. I adored Ignifex beforehand, when he was in his "villian" state. He had a wicked sense of humor, and had me laughing all the time. In terms of development, I can't discuss his exact path (it would contain spoilers), but I can say that he is extremely complex and you can't help but fall for him.
I think everyone is waiting for me to talk about the romance. 🙂 I have a strong dislike for instalove (like every other sane person on the planet), and love triangles (unless they're well done). It saddens me that such things would happen in a book with such promise, but surprisingly these two elements in this story didn't bother me too much. I think the "love-triangle" (you will understand the quotations once you finish the book) was supposed to be half-assed, Hodge didn't really give much attention to it at all, and rather focused on the complexity and characters. I suggest you ignore the instalove, because there is a twist involving the characters that makes the story more exciting and the instalove even more unimportant. If you were to describe the entire story to someone, I don't think these two elements would be included in your description, since they didn't have much of an impact on the story. You can't deny that there is instalove, but it's pretty easy to look past when you're reading such an engrossing book as Cruel Beauty. My suggestion would be to have patience and read on, as the story and characters (and romance!) get a lot more dark and intense.
Overall, I would whole-heartedly reccommend Cruel Beauty to lovers of intense and dark stories. Although there are a few things that will put you off, I suggest having patience and continue reading the book. I'm sad that this is a standalone novel, but I'll be looking forward to reading the novella Gilded Ashes (Cinderella reimagining), which is also set in the Cruel Beauty Universe. Rosamund Hodge, you have gained a new fan! 🙂
-Haven