I know. I'm a terrible person. The fact that I haven't found the time to write the new releases for two months is the least of my crimes, with the victims being Haven and you guys. So, without any further ado, I present the new releases for April, and I hope I can make it up to you.
1. The Raven King, by Maggie Steifvater – Coming April 26th, 2016
The fourth and final installment in the spellbinding series from the irrepressible, #1 New York Times bestselling author Maggie Stiefvater.
All her life, Blue has been warned that she will cause her true love's death. She doesn't believe in true love and never thought this would be a problem, but as her life becomes caught up in the strange and sinister world of the Raven Boys, she's not so sure anymore.
In a starred review for Blue Lily, Lily Blue, Kirkus Reviews declared: "Expect this truly one-of-a-kind series to come to a thundering close.
I haven't read Steifvater's famous Raven Cycle series, but it's very hypes, and fans should be eagerly awaiting this conclusion.
2. When We Collided, by Emery Lord – Coming April 5th, 2016
Seventeen year-old Jonah Daniels has lived in Verona Cove, California, his whole life, and only one thing has ever changed: his father used to be alive, and now he is not. With a mother lost in a deep bout of depression, Jonah and his five siblings struggle to keep up their home and the restaurant their dad left behind. But at the start of summer, a second change rolls in: Vivi Alexander, the new girl in town.
Vivi is in love with life. Charming and unfiltered, she refuses to be held down by the medicine she's told should make her feel better. After meeting Jonah, she slides into the Daniels' household seamlessly, winning over each sibling with her imagination and gameness. But it's not long before Vivi's zest for life begins to falter. Soon her adventurousness becomes all-out danger-seeking.
Through each high and low, Vivi and Jonah's love is put to the test . . . but what happens when love simply isn't enough?
This sounds like an interesting book on bipolar disorder, and hopefull will be a good addition to YA contemporary.
3. The Star-Touched Queen, by Roshani Chokshi – Coming April 26th, 2016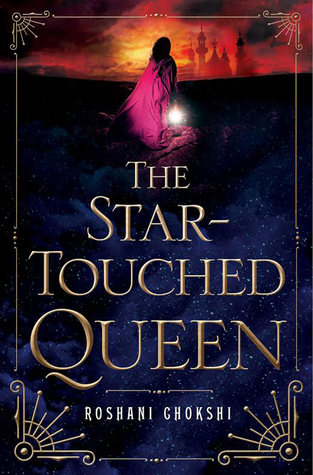 Fate and fortune. Power and passion. What does it take to be the queen of a kingdom when you're only seventeen?
Maya is cursed. With a horoscope that promises a marriage of Death and Destruction, she has earned only the scorn and fear of her father's kingdom. Content to follow more scholarly pursuits, her whole world is torn apart when her father, the Raja, arranges a wedding of political convenience to quell outside rebellions. Soon Maya becomes the queen of Akaran and wife of Amar. Neither roles are what she expected: As Akaran's queen, she finds her voice and power. As Amar's wife, she finds something else entirely: Compassion. Protection. Desire…
But Akaran has its own secrets — thousands of locked doors, gardens of glass, and a tree that bears memories instead of fruit. Soon, Maya suspects her life is in danger. Yet who, besides her husband, can she trust? With the fate of the human and Otherworldly realms hanging in the balance, Maya must unravel an ancient mystery that spans reincarnated lives to save those she loves the most. . .including herself.
A lush and vivid story that is steeped in Indian folklore and mythology. The Star-Touched Queen is a novel that no reader will soon forget.
I haven't encountered much Indian (The country) folklore in YA, so I'm super excited for this.
4. The Rose & the Dagger, by Renee Ahdieh – Coming April 26th, 2016
The mu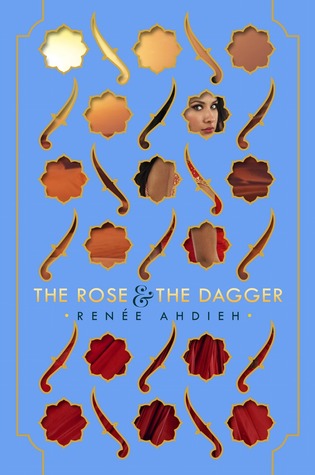 ch anticipated sequel to the breathtaking The Wrath and the Dawn, lauded by Publishers Weekly as "a potent page-turner of intrigue and romance."

I am surrounded on all sides by a desert. A guest, in a prison of sand and sun. My family is here. And I do not know whom I can trust.

In a land on the brink of war, Shahrzad has been torn from the love of her husband Khalid, the Caliph of Khorasan. She once believed him a monster, but his secrets revealed a man tormented by guilt and a powerful curse—one that might keep them apart forever. Reunited with her family, who have taken refuge with enemies of Khalid, and Tariq, her childhood sweetheart, she should be happy. But Tariq now commands forces set on destroying Khalid's empire. Shahrzad is almost a prisoner caught between loyalties to people she loves. But she refuses to be a pawn and devises a plan.
While her father, Jahandar, continues to play with magical forces he doesn't yet understand, Shahrzad tries to uncover powers that may lie dormant within her. With the help of a tattered old carpet and a tempestuous but sage young man, Shahrzad will attempt to break the curse and reunite with her one true love.
I know this will be one of the most highly awaited books of this year, due to the success of The Wrath and the Dawn. I actually have an interesting story about Renee Ahdieh. When she was visiting the city where I lived, I wasn't able to see her, but my librarian (the coolest person on the planet) got me a bookmark signed by Ahdieh addressed to me. Suffice to say, it is one of my most prized possessions.
5. Don't Get Caught, by Kurt Dinan – Coming April 1st, 2016
10:00 tonight at the water tower. Tell no one. -Chaos Club
When Max receives a mysterious invite from the untraceable, epic prank-pulling Chaos Club, he has to ask: why him? After all, he's Mr. 2.5 GPA, Mr. No Social Life. He's Just Max. And his favorite heist movies have taught him this situation calls for Rule #4: Be suspicious. But it's also his one shot to leave Just Max in the dust…
Yeah, not so much. Max and four fellow students-who also received invites-are standing on the newly defaced water tower when campus security "catches" them. Definitely a setup. And this time, Max has had enough. It's time for Rule #7: Always get payback.
Let the prank war begin.
I was actually approved to read an ARC of this book, and frankly, it's really adorable, light, and fun. Review to come.
That's it for new releases! Enjoy your reading!
~Liz