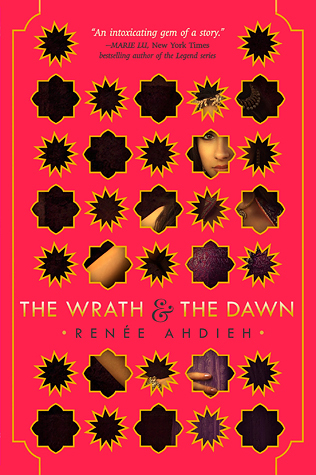 3.5 Stars
One Life to One Dawn.
In a land ruled by a murderous boy-king, each dawn brings heartache to a new family. Khalid, the eighteen-year-old Caliph of Khorasan, is a monster. Each night he takes a new bride only to have a silk cord wrapped around her throat come morning. When sixteen-year-old Shahrzad's dearest friend falls victim to Khalid, Shahrzad vows vengeance and volunteers to be his next bride. Shahrzad is determined not only to stay alive, but to end the caliph's reign of terror once and for all.
Night after night, Shahrzad beguiles Khalid, weaving stories that enchant, ensuring her survival, though she knows each dawn could be her last. But something she never expected begins to happen: Khalid is nothing like what she'd imagined him to be. This monster is a boy with a tormented heart. Incredibly, Shahrzad finds herself falling in love. How is this possible? It's an unforgivable betrayal. Still, Shahrzad has come to understand all is not as it seems in this palace of marble and stone. She resolves to uncover whatever secrets lurk and, despite her love, be ready to take Khalid's life as retribution for the many lives he's stolen. Can their love survive this world of stories and secrets?
Inspired by A Thousand and One Nights, The Wrath and the Dawn is a sumptuous and enthralling read from beginning to end.
Although I'm a bit late to reading this book, the hype is still going strong. Not everyone seems to like it, but they're all talking about it. I must say, even though I had my eyes its A Thousand And One Nights vibe and the overall Arabian-inspired setting before I started reading the book, the whole "falling in love with your enemy" charade isn't really my thing. It's been done far too many times, and I honestly only needed one negative review to motivate me to let this go. After finishing the book, I am mixed on basically everything but I enjoyed it nonetheless.
The world-building is absolutely beautiful, and is only enhanced by Ahdieh's wonderful writing. The descriptions were perfectly strung together and I felt every emotion of the characters (specifically Shazi's). I especially loved the conversations between Shahrzad and Despina, as they contained a much-needed spark in the book with their clever and heart-warming undertone. There are a few dialogues that seem a little forced (especially when the dialogue is supposed to be serious or mysterious) and Khalid's dialogue towards Shazi is cheesy but swoon-worthy at the same time. But, I enjoyed the writing overall and it could be considered one of the book's stronger points.
The overall plot is mostly centered on the dynamic between Shazi and Khalid, it's an extremely romance-based book. Personally, the layout of the book really reminds me of Throne Of Glass, which also had great potential due to its world-building and writing, but was sadly wasted on the Celaena/Chaol/Dorian love triangle. I would almost consider Throne Of Glass's minimal action and intrigue to be more extensive than the intrigue in The Wrath And The Dawn (which is saying something, considering the book was basically a teen drama set in a fantasy world). Wow. So much shade in this review already, ha. There was way too much drama and daydreaming, way more than this book needed. There's a beautiful world you've created, do something with it? Add magic, a revolution, something! There are only traces of sorcery and rebellion and excitement scattered around, and that was mostly seen in the last 20 pages.
I can't come to a conclusion on how I feel about the characters. I think Shahrzad is a very witty and interesting character, despite her narration being very ordinary. While a few of her lines were unnecessarily defiant, most of them were clever and quite engaging. I liked her constant struggle with herself over falling for Khalid and avenging her friend, and her determination for justice. While that "determination for justice" lasted for about 10 min., I still admired her through all the dumb decisions. Her character is actually similar to Celaena Sardothien (Throne Of Glass chick) to me, and these (mild) similarities were the root of my problems with Shazi. Everywhere I see, everyone seems to be kissing her ass. She's beautiful, she's intelligent, she's "silver-tongued". While I appreciate some of these characteristics, I couldn't see what all these people saw in her. It makes me wonder how meek and plain the past wives of the Caliph were, if one can tell Shazi's so interesting just by looking at her face.
I can tell Khalid is complex, but I didn't find him interesting in the least. If Ahdieh meant to explore his psyche through the Shahrzad narrated chapters, it did not work out. I hope we can take a good look at him in The Rose And The Dagger, his sort of character has potential for some serious development. I had a good feeling with our secondary characters, Jalal and Despina. While they were Sharhzad worshippers (specifically Jalal), I loved their dialogue and felt their emotions popping out of the page. Hopefully their history is looked upon in the next book as well. My emotions concerning Tariq are complicated, and I need more Yasmine.
I am lukewarm about the romance. The attraction was felt much too quickly, actually from the first few pages themselves. Shahrzad's massive plan to survive was to tell Khalid stories and leave them on a cliffhanger to distract him from the sunrise. *sighs* I couldn't understand why Khalid was so attracted to Shazi since there was no explanation throughout the book. But, the overall angst and swoon-worthiness of their love made it a guilty pleasure, and I would like more.
The Wrath And The Dawn definitely hooks you. This review makes it sound like I hated this book, but I honestly had so much fun reading. Yes, it has its flaws, but I suggest everyone reads to the end and enjoy it nonetheless. 😀
-Haven