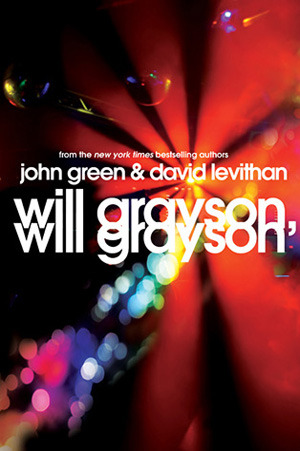 4 Stars
Will Grayson meets Will Grayson. One cold night, in a most unlikely corner of Chicago, two strangers are about to cross paths. From that moment on, their world will collide and lives intertwine.
It's not that far from Evanston to Naperville, but Chicago suburbanites Will Grayson and Will Grayson might as well live on different planets. When fate delivers them both to the same surprising crossroads, the Will Graysons find their lives overlapping and hurtling in new and unexpected directions. With a push from friends new and old – including the massive, and massively fabulous, Tiny Cooper, offensive lineman and musical theater auteur extraordinaire – Will and Will begin building toward respective romantic turns-of-heart and the epic production of history's most awesome high school musical.
It seems like a fair amount of readers love to rag on this book, but I really enjoyed Will Grayson, Will Grayson. Yes, it's undeniably flawed. Yes, the weirdness and slightly exaggerated personalities of the characters bothered me every now and then. But, there is a quality to it that makes me love its flaws and quirkiness wholeheartedly.
The story is narrated through John Green's Will Grayson (who I shall refer to as WG1) and David Levithan's Will Grayson (WG2). While I'm quite familiar with Green, this is my first time experiencing David Levithan. His writing style is actually quite effortless and simple, but still holds a ton of emotion. Honestly, besides the fact that Green and Levithan both write YA contemporary novels, there is not much similarity between their styles. We all know Green is famous for his wise-beyond-their-years characters and consistent musings on life and its struggles. And, apparently Levithan really likes his dry humor and simplistic writing. These two could not be more distinct, but how they feed off each other's ideas is really interesting and kind of amazing.
"I feel like my life is so scattered right now. Like it's all the small pieces of paper and someone's turned on the fan. But, talking to you makes me feel like the fan's been turned off for a little bit. Like things could actually make sense. You completely unscatter me, and I appreciate that so much."
WG1 is hipster-y, nerdy, and absolutely hilarious. Thankfully, he deviates slightly from the classic John Green character, meaning he's the "don't know, don't care" type and that he sounds like an authentic teenager from time to time. He's funny, intelligent, and best friends with the very gay Tiny Cooper. Most of his outer personality is inflicted by his extreme self-doubt and tendency to keep away from emotional attachments. While he doesn't want to care, he does, and though this book, he learns that it's okay to love someone and care for them.
"I've never known before what it feels like to want someone – not to want to hook up with them or whatever, but to want them, to want them. And now I do. So maybe I do believe in epiphanies."
On the other hand, WG2 is dry, depressed, and a little twisted. His life is extremely different from WG1, as he's not as privileged or happy due to the events he has experienced in his life. Although his sense of humor is quite dark and negative, I loved every minute of it. It's often hard to keep up with his depression and "everything and everyone" is hopeless attitude, but he will pull a whole bunch of compassion out of you.
"maybe tonight you're scared of falling, and maybe there's somebody here or somewhere else you're thinking about, worrying over, fretting over, trying to figure out if you want to fall, or how and when you're gonna land, and i gotta tell you, friends, to stop thinking about the landing, because it's all about falling."
But, this story isn't actually about the Will Graysons. It's about Tiny Cooper, the largest, gayest, most extravagant man you have heard of. I had a difficult time liking Tiny, because he was such a cliche character and had an extremely exaggerated personality. It was increasingly hard to understand and let alone relate to him. I'm still iffy on him as a character, but I will admit he was hilarious and his musical was "so bad, it's good."
"This is the dangerous thing about musicals. Most of them assume that as soon as you find your voice, you'll use it to sing to someone else."
I thought the romance was super cute. It went in lots of different ways, especially concerning WG#2. I loved Jane and WG#1's relationship and their combined quirkiness, even if I'd seen it in before in Green's books. WG#2's relationships are a bit more complicated. If I told you who he was affiliated with, it would spoil the book for you, but I will say it's an interesting process of discovering yourself and who you love.
"Maybe there's something you're afraid to say, or someone you're afraid to love, or somewhere you're afraid to go. It's gonna hurt. It's gonna hurt because it matters."
Overall, Will Grayson, Will Grayson will not be for everyone. But, don't let the "meh" reviews scare you, and give it a chance. Pick up some John Green and David Levithan books while you're at it too.
-Haven