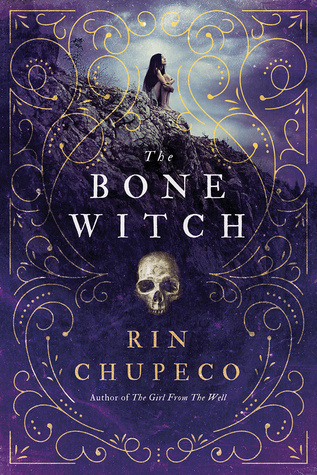 3.5 stars
When Tea accidentally resurrects her brother from the dead, she learns she is different from the other witches in her family. Her gift for necromancy means that she's a bone witch, a title that makes her feared and ostracized by her community. But Tea finds solace and guidance with an older, wiser bone witch, who takes Tea and her brother to another land for training.
In her new home, Tea puts all her energy into becoming an asha — one who can wield elemental magic. But dark forces are approaching quickly, and in the face of danger, Tea will have to overcome her obstacles…and make a powerful choice.
Memoirs of a Geisha meets The Name of the Wind in this brilliant new fantasy series by Rin Chupeco!
*An ARC was provided by the publisher via Netgalley in exchange for an honest review.*
My feelings for The Bone Witch fluctuated frequently throughout this book, and if you would have told me I've rated it higher than 2 stars back when I was at 15%, I would have laughed in your face. Seriously, I had considered abandoning this book at about 10%, but decided it was too early and reluctantly pushed on. Surprisingly, the book picked up around 45%, and while it wasn't completely smooth sailing from there, it was far more exciting than the beginning chapters. My rating of 3.5 stars doesn't entirely encompass my feelings for this book, it was filled with moments I loved and others I didn't understand, but I'm so happy I didn't abandon The Bone Witch like I thought I would.
The Bone Witch follows young Tea, a girl from small village who initially discovers she is an asha (someone who can wield magic/draw runes) after accidentally resurrecting her brother  at his funeral. Turns out she isn't a typical asha, who can wield the elements, but a "bone witch", a type of dark asha that specifically works with death and the dead. They are also the only people that can kill the mysterious and dangerous Daeva creatures, which are a consistent threat to the world. After this incident, Tea becomes a student of Lady Mykaela, a powerful and well-known bone witch, and they both (along with Tea's resurrected brother, Fox) travel to arrive at the Valerian "asha-ka" , a school and home in which asha learn their duties and skills, and eventually make their debut as an official asha, that can entertain and fight. The Valerian household is the specific house in which Lady Mykaela herself was raised.
The world-building…. is absolutely magnificent. It's the motivation to learn about this world that inspired me to continue on, a feeling I haven't experienced in long time. I've got so used to all these "fantasy-lite" books trying to develop their own world and failing, I've completely forgotten how rich and beautiful a full-blown world can be. Chupeco planned everything out in this book perfectly, and it never became confusing or overwhelming, and I am confused quite easily. From the descriptions of the asha's hua (very important asha clothing) to the busy Valerian household, everything felt so unique and cultured and dynamic. The politics between each of the 9 kingdoms is brilliantly fleshed out, as well as the politics within the separate asha-kas. The kingdoms, food, and character values seem to take inspiration from the Middle-East, and the political and social order is structurally developed. A concept I find especially interesting, is "heartglass", a necklace worn by everyone in the kingdoms to show their emotions through different colors. Social norms are also very dynamic, an example being the prejudice against bone witches due to fear and ignorance.
Another aspect I love is the parallel of problems in our society today, only expressed in different ways. Gender roles are brought into the light when a male character named Likh, is looked down upon for wanting to be an asha (if your heartglass is silver or turns silver, you are marked as someone able to wield magic), which is seen as a sole female role in society. Typically, females who can wield magic are trained to become asha by learning how to dance, sing, entertain, fight and other such skills which are prominently seen as "female-oriented". Males who are able to wield magic train to fight as Deathseekers, soldiers in the army. I adore this incorporation, and it just shows how realistically flawed Chupeco's world is.
My only complaint about this world-building was the way it was presented. This wasn't consistent throughout, but sometimes the writing was very info-dumpy, and that made it pretty difficult to read, especially toward the beginning (reason why I wanted to abandon it). Another thing I have to state is the change in perspective and time period between the chapters. This separate story is told from a future Tea, who explains her life to another person, a person I did not know for the most part. Personally, I found this aspect uninteresting and skipped over many until the last few chapters, when something actually happens. In fact, I have the same complaint for the main plot. The story is largely taken up by Tea's training and descriptions of asha, which was interesting, but no action had actually taken place up until the last 20%.
The characters are not the most compelling thing in the story at first, but they became more interesting as I moved on. Tea herself suffers from special-snowflake syndrome, but isn't unlikable. She's incredibly lacking in personality initially, but as the story continued I came to admire her courage and stubbornness. Unfortunately, many of the supporting characters were one-dimensional (excluding Fox, the actual love of my life) and not very expanded. Zoya is the bitchy girl who hates Tea (think Zoya from Shadow And Bone), Prince Kance is the very sweet/clueless possible love interest (think Maxon from The Selection), and Kalen (Kance's cousin) is the I'm-always-angry-and-brooding dude. Well, Kalen and even Zoya developed a little bit throughout the book, but the rest of the characters were uninteresting to me. I do think there is potential though, some characters have been assigned a basis to start with and they can grow from there, but others need a lot of work.
The characters overall were disappointing, but I have a great amount of love and admiration for Fox, and his relationship with Tea. It's an unbreakable bond, truly, and is absolutely beautiful to experience. What's even greater is the subtle comic relief and humor that Fox brings to the serious, cultured mood of the book, he's certainly my favorite character. Lady Mykaela is also an exception from the influx of one-dimensional characters; her backstory is incredible and heartbreaking, and it would be great if we had a novella on her in the near future
It is clear that The Bone Witch is for a certain kind of reader, but I recommend this to everyone. It's different from other YA fantasies, the "romance" is only beginning with this book and the main character is younger than most heroines, but can still be enjoyed by anyone, especially those who are looking well-developed fantasy worlds and concepts, not well-developed romances with a fantasy setting. I truly think The Bone Witch and its upcoming books can be something special, and I'm excited to see everyone's reactions when it comes out officially.
-Haven