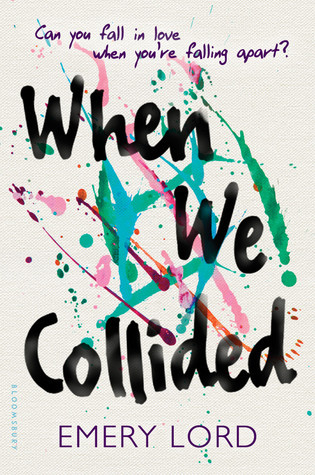 3.5 stars
We are seventeen and shattered and still dancing. We have messy, throbbing hearts, and we are stronger than anyone could ever know…
Jonah never thought a girl like Vivi would come along.
Vivi didn't know Jonah would light up her world.
Neither of them expected a summer like this…a summer that would rewrite their futures.
In an unflinching story about new love, old wounds, and forces beyond our control, two teens find that when you collide with the right person at just the right time, it will change you forever.
The range of emotions I felt while reading When We Collided is essentially endless. I was happy. I was sad. I was angry. I was emotional. I was confused. Which is precisely why it leaves me so damn conflicted. When We Collided explores an influx of various problems, from mental illness to the loss of a loved one — while combining it with a romance. Most of the aspects were done magnificently well in my opinion, but some prominent ones didn't click with me as well as they should have, hence the docking of a 0.5 star. While I think this book is very important and realistic, especially nowadays, I'm still incredibly mixed on it.
When We Collided follows teenagers Vivi and Jonah as they navigate through their unusual lives in the small beach town of Verona Cove. Vivi is a vivacious, energetic girl who has just moved to the town and is looking for a way to delve into her passions and repress the painful memories of her past. It is later revealed that she has bipolar disorder, and it's pretty evident throughout the book. Jonah is dealing with emotional baggage of his own, as he and his older siblings work 24/7 to raise their younger siblings and manage their family after their father's death, which left their mother emotionally unstable and unresponsive. As their lives converge, they both learn an immense amount about each other, themselves, and they lives they are leading.
The prominent theme explored in this book is clearly, mental illness. I haven't read too many books about bipolar disorder specifically, the only account I've been exposed to was in The Museum Of Intangible Things, and I have to say they are very mildly similar. Lord definitely seems to know what she's doing judging by her author's note and the amount of openness and honesty she covers on the topic of mental illness. It seems as though many authors who choose to include mental illness in their books seem to ignore it and cover it subtly by the romance and its relationship angst. When We Collided is different, as it freely discusses Vivi's condition whilst providing the reader the opportunity to understand and sympathize with her. It's explained in a respectful, inoffensive manner and gives us the full experience of being in her head and experiencing her fluctuating emotions. By this statement, I mean the writing and how it manages to exemplify Vivi's thought process through its impulsive switches from joyful to emotional to furious. I especially loved this aspect because it truly showed Vivi's character instead of just describing it. Overall, the inclusion of a well-researched portrayal of mental illness carried a powerful message and is arguably the strongest point of the novel.
The characters were equally enjoyable, even there are a few things to remark on. Jonah is officially one of my favorite male characters ever, he's so funny, lovable, hardworking, and flawed all at once. For most of the story, Jonah is tired and vulnerable due to the constant work he faces everyday — after his father's death, he and his older siblings make sacrifices every day to keep their family afloat, and this responsibility is theirs due to their mother hiding in her bedroom, so consumed by her grief. Jonah has a constant struggle between his responsibility to his family and his want to just be a regular teenager again. It's actually pretty heartbreaking, because Jonah is bestowed with an unwanted, unnatural task whilst grieving for his father, coping with working in his father's restaurant, and continuing to pursue his passions in minor ways, even if his big dreams are put on hold. It's not hard to fall for him, his personality is so attractive and sweet, and what's even better is that he's not perfect. He's flawed and relatable and realistic.
Vivi, it took me a bit to warm up to her. The writing correlates with her personality, sometimes she's all happy and inspired and erratic, while other times she's so angry the LETTERS ARE CAPITALIZED LIKE THIS. It was difficult to warm up to her usual sugary sweet, flowery narration, but she grew on me throughout the book. While I liked her light humor and smiley nature, I loved her vulnerable moments specifically, when she's broken down and really evokes your sympathy. Even if the narration sounds a tad forced towards the beginning, Vivi's character is genuine and out in the open, more so than the other mentally ill characters I've read about, who tend to be a caricature of their condition.
My only problem with these protagonists is the fact that this is mainly Vivi's story, her voice is so dominant that Jonah's perspective wasn't actually needed. I felt like Jonah and Vivi's problems didn't match up well, which leaves me conflicted because I adore Jonah, but he felt a little out of place in Vivi's world.
My main issue comes with the prospect of instalove. I honestly could not believe that this book was marketed as a romance and failed in that department, almost immediately. Vivi and Jonah hardly know each other for a few days before they are kissing and proclaiming that they love each other. This really took me by surprise, I got to thinking maybe it was an accidental, somewhat toxic relationship (in the beginning of the novel, Vivi would remark that a damaged boy like Jonah needed her to fix him, and she seemed to think of him as her personal project), or maybe it wanted to focus on the relationship angst after Vivi and Jonah are officially together. I liked the relationship angst actually, but the development of their relationship was completely missing. Besides that, something about their romance just felt off to me, which is why I wasn't completely invested in them. I found myself liking the bittersweet ending because of this. Thankfully, the character development and portrayal of mental illness was well done, otherwise When We Collided would have failed completely, to say the least.
My other remark isn't so much of a complaint, but disappoint masked by a suggestion. I just wanted, needed, more. More angst, more teenage musings, more romantic tension and development, more information about Vivi's past, and more of the protagonists' friendships and relationships beyond each other. Maybe Lord wanted to make this more lighter and family-oriented, but those aspects can be told in a more detailed and deeper way without sounding pretentious. I thought such important themes presented softy in the book could have been expanded and applied to teenagers and young adults as well.
Overall, When We Collided is definitely excellent in its character development, research, and story-telling but lacks in depth and buildup, specifically toward the romance aspect. I think it's definitely a worthwhile read if you aren't on the lookout for a summery, sweet romance, but rather a true portrayal of mental illness and its realistic characters, sadly a few things that have become a little too rare these days in YA.
-Haven