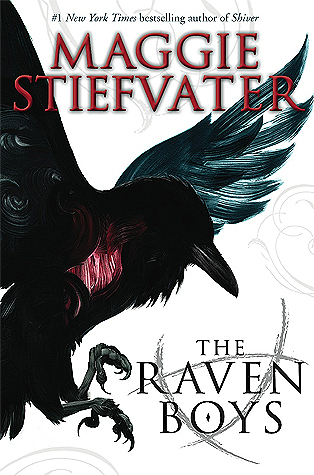 3.75 stars
"There are only two reasons a non-seer would see a spirit on St. Mark's Eve," Neeve said. "Either you're his true love . . . or you killed him."
It is freezing in the churchyard, even before the dead arrive.
Every year, Blue Sargent stands next to her clairvoyant mother as the soon-to-be dead walk past. Blue herself never sees them—not until this year, when a boy emerges from the dark and speaks directly to her.
His name is Gansey, and Blue soon discovers that he is a rich student at Aglionby, the local private school. Blue has a policy of staying away from Aglionby boys. Known as Raven Boys, they can only mean trouble.
But Blue is drawn to Gansey, in a way she can't entirely explain. He has it all—family money, good looks, devoted friends—but he's looking for much more than that. He is on a quest that has encompassed three other Raven Boys: Adam, the scholarship student who resents all the privilege around him; Ronan, the fierce soul who ranges from anger to despair; and Noah, the taciturn watcher of the four, who notices many things but says very little.
For as long as she can remember, Blue has been warned that she will cause her true love to die. She never thought this would be a problem. But now, as her life becomes caught up in the strange and sinister world of the Raven Boys, she's not so sure anymore.
From Maggie Stiefvater, the bestselling and acclaimed author of the Shiver trilogy and The Scorpio Races, comes a spellbinding new series where the inevitability of death and the nature of love lead us to a place we've never been before.
The Raven Boys has been recommended to me by possibly everyone I know, and it sucks that it took so long for me to get to it, but I'm glad I finally did. It's really not the type of book I would have picked up my myself, as I haven't had the best experience reading Shiver (Maggie Steifvater's only other book I've read), but giving this author a second chance was definitely worth it.
I was honestly in disbelief as I took in the writing of this book, wondering if it was the same author that wrote the purple-ridden prose of Shiver. I'm unsure if Steifvater wrote so flowery in Shiver to fit the supposed gentle, fragile atmosphere of it, but the writing in this book was a solid step-up, considering I was actually able to read it. Steifvater's writing personally doesn't strike a definite cord within me, but I actually enjoyed the easiness incorporated into this one. I could definitely feel the atmosphere that she was trying to create more clearly without the excess description. In fact, the atmosphere created was one of my favorite things about the book. I loved the homey yet mystical pull of Henrietta, the southern town in which the characters live in, as well as the busy and cluttered yet lovable characteristics of Blue's all-female, familial, psychic household. I also enjoyed the numerous subplots involved in the story, from the Welsh mythology to rituals gone wrong and unintentional murders and all the mystery surrounding Blue and her father. It was a well-created setting and mood, one that seeped through the pages smoothly.
The characters were also surprisingly interesting and layered, another step above from the blandness of Grace and Sam from Shiver. I came in expecting tropes and cliches for the rich 'Raven Boys' (the fact that they have a collective name predetermines that), but they had depth and emotions and certain likability to all of them, even at their worst moments. Gansey's wit and determination was expressed well throughout the book, as well as his uncertainty when it came to his plans and his feelings for his three friends. His arrogant yet caring nature when it came to his friends can be misinterpreted by many, but I love that aspect because it brings about many perspectives about his judgments, especially toward Adam. I love their flawed relationship, as well as Gansey's relationship with Ronan. Adam is certainly a favorite as well, and possibly the most fleshed-out character in the book. His insecurity about the wealth around him, as well as his outstanding yet unassuming determination toward dictating his own future were incredibly done. Adam doesn't really create that much of a presence toward the beginning, he's quiet and shy, but as the story goes on, his emotional capacity grows and grows to a loud and rattling point. His character is so vulnerable, but the vulnerability is so well-written you can't help but love it. I have a feeling Ronan was supposed to be the most in-depth character of the book, and while I see the anguish, he could have been more expanded on. While his backstory was relieved, I couldn't dive into his character as much as the others. Perhaps this has to do with his guarded nature, but I do hope he is more focused on in the next book.
I have mixed feelings about Blue Sargent herself, because while I do like her confidence and funny commentary here and there, she comes off as slightly immature and obnoxious. This feeling wasn't present throughout the whole book, but she comes off as a little too quirky and childish in a mystical, more emotionally mature book such as this, and the fact that she makes her own clothes and seems to judge rich people constantly only adds to the 'meh' feeling. I don't really see the hype that everyone else sees in the book, but I like how she isn't a complete special snowflake and actually has a personality, so here's hoping that she improves in the sequel. With that being said, I actually really liked her interactions with other psychics in the household, and the psychics themselves too. I loved the unsettling yet likable Persephone as well as the confident, straightforward Calla. Even characters that were merely described (such as the chatty Orla) were described well and added a significant amount of personality to the household.
I would definitely recommend The Raven Boys to anyone looking for a mysterious urban fantasy which has a good balance of lightness and maturity. Don't let the synopsis fool you, it's really not as cliche as it sounds. 🙂
-Haven