Hello, fellow bookworms! Today I wanted to share with y'all some of my favorite contemporary/romance novels that seem to be quite underrated or not as talked about in the book community. I've been reading a lot more contemporary novels starting from 2016, because my school workload and activities didn't allow me the energy needed for a complex fantasy or dystopian novel, and I enjoyed the brain candy that was thrown to me. It gave me a rest from all the craziness and provided me with something to enjoy and dive into without completely taking my attention off work. I've definitely grown more attached to contemporary novels and gained more appreciation for them, as I usually read fantasy and science-fiction exclusively during my late middle school to early high school years. So, I just felt the need to express that through this post and I hope that it inspires you to pick up more contemporaries!
1. Tonight The Streets Are Ours, by Leila Sales
Recklessly loyal.
That's how seventeen-year-old Arden Huntley has always thought of herself. Caring for her loved ones is what gives Arden purpose in her life and makes her feel like she matters. But lately she's grown resentful of everyone—including her needy best friend and her absent mom—taking her loyalty for granted.
Then Arden stumbles upon a website called Tonight the Streets Are Ours, the musings of a young New York City writer named Peter, who gives voice to feelings that Arden has never known how to express. He seems to get her in a way that no one else does, and he hasn't even met her.
Until Arden sets out on a road trip to find him.
During one crazy night out in New York City filled with parties, dancing, and music—the type of night when anything can happen, and nearly everything does—Arden discovers that Peter isn't exactly who she thought he was. And maybe she isn't exactly who she thought she was, either.
While Tonight The Streets Are Ours isn't Sales' most well-received novel (that honor would go to This Song Will Save Your Life which I personally thought was over-hyped), it definitely deserves to be due to its mature themes and realistic narration. I loved the setting and aesthetic of the novel firstly, and Arden's narration is funny and relatable, reflecting her personality easily. This is a very character-based book, but other themes such as family, friendship, and believing and trusting oneself come into play seamlessly.  I would recommend this book to anyone who wants to jump into the nightlife of New York and go on a wild ride of falling for someone, heartbreak, and discovering who you are.
2. The Distance Between Us, by Kasie West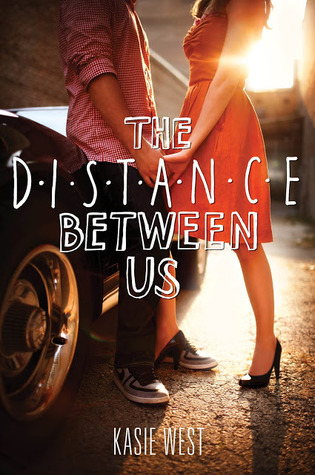 Seventeen-year-old Caymen Meyers studies the rich like her own personal science experiment, and after years of observation she's pretty sure they're only good for one thing—spending money on useless stuff, like the porcelain dolls in her mother's shop.
So when Xander Spence walks into the store to pick up a doll for his grandmother, it only takes one glance for Caymen to figure out he's oozing rich. Despite his charming ways and that he's one of the first people who actually gets her, she's smart enough to know his interest won't last. Because if there's one thing she's learned from her mother's warnings, it's that the rich have a short attention span. But Xander keeps coming around, despite her best efforts to scare him off. And much to her dismay, she's beginning to enjoy his company.
She knows her mom can't find out—she wouldn't approve. She'd much rather Caymen hang out with the local rocker who hasn't been raised by money. But just when Xander's attention and loyalty are about to convince Caymen that being rich isn't a character flaw, she finds out that money is a much bigger part of their relationship than she'd ever realized. And that Xander's not the only one she should've been worried about.
Get ready to grin until your cheeks hurt, because man, is this book a cheese-fest. The Distance Between Us is a perfect combination of extremely adorable and actual life lessons. Caymen is hilarious, relatable, and undeniably witty throughout the book, and her worries of the future she holds is conveyed realistically. In fact, the whole book is so true and subtle in its delivery of meaning, while many of the events that take place are unusual in our daily lives, Caymen and Xander's personalities and feelings are relatable especially to young adults. The romance is just the right amount of sweet, and I swear, this book will make you so happy.
3. Please Ignore Vera Dietz, by A.S King
Vera's spent her whole life secretly in love with her best friend, Charlie Kahn. And over the years she's kept a lot of his secrets. Even after he betrayed her. Even after he ruined everything.
 
So when Charlie dies in dark circumstances, Vera knows a lot more than anyone—the kids at school, his family, even the police. But will she emerge to clear his name? Does she even want to?
 
Edgy and gripping, Please Ignore Vera Dietz is an unforgettable novel: smart, funny, dramatic, and always surprising.
Please Ignore Vera Dietz actually deviates from the short and straightforward form of its summary and delves into a ton of deeper subjects that are actually very prevalent social issues in our society today. I feel like I name-drop this book often, and it's for good reason. The prose of this book is so raw and truthful, and the messages it holds about suffering, guilt, and loss are expressed effortlessly. The characters only enhance this aspect to create a tragic yet beautiful story.
4. How To Save A Life, by Sara Zarr
Jill MacSweeney just wishes everything could go back to normal. But ever since her dad died, she's been isolating herself from her boyfriend, her best friends—everyone who wants to support her. And when her mom decides to adopt a baby, it feels like she's somehow trying to replace a lost family member with a new one.
Mandy Kalinowski understands what it's like to grow up unwanted—to be raised by a mother who never intended to have a child. So when Mandy becomes pregnant, one thing she's sure of is that she wants a better life for her baby. It's harder to be sure of herself. Will she ever find someone to care for her, too?
As their worlds change around them, Jill and Mandy must learn to both let go and hold on, and that nothing is as easy—or as difficult—as it seems.
This book centers on one of the most melodramatic and overdone topics in entertainment today — and absolutely nails it. How To Save A Life brims with emotional honesty, relatability, and poise as the prose is delivered in quiet yet heartbreaking way. I name-drop this one a lot too, and that is because there aren't many books that can parallel the sincerity of this one.
5. The List, by Siobhan Vivian
An intense look at the rules of high school attraction – and the price that's paid for them.
It happens every year. A list is posted, and one girl from each grade is chosen as the prettiest, and another is chosen as the ugliest. Nobody knows who makes the list. It almost doesn't matter. The damage is done the minute it goes up.
This is the story of eight girls, freshman to senior, "pretty" and "ugly." And it's also the story of how we see ourselves, and how other people see us, and the tangled connection of the two.
The premise of this book tends to scare away readers, probably because it sounds as a dramatic, chick-lit novel riddled with cliches. Spoiler alert: It's deeper than that. Vivian turns the typical high school cliched characters into actual human beings and breathes life into them. It's effortlessly written with running social themes concerning teenage interactions, and doesn't sound too preachy or dramatic while doing it either.
Thank you all for reading! Hopefully this post inspires you to explore more contemporary/romance stories, because they definitely need the attention.
-Haven