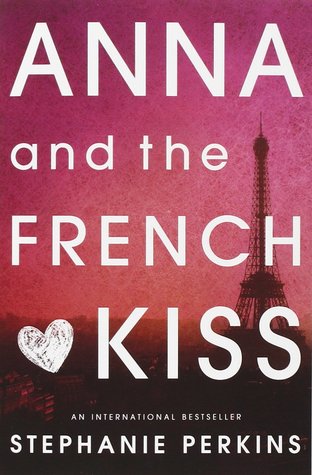 Can Anna find love in the City of Light?
Anna is happy in Atlanta. She has a loyal best friend and a crush on her coworker at the movie theater, who is just starting to return her affection. So she's less than thrilled when her father decides to send her to a boarding school in Paris for her senior year.
But despite not speaking a word of French, Anna meets some cool new people, including the handsome Étienne St. Clair, who quickly becomes her best friend. Unfortunately, he's taken —and Anna might be, too. Will a year of romantic near misses end with the French kiss she's waiting for?
We essentially had a free period in my last class a few days ago, so I decided to get lit and read Anna And The French Kiss. I had already read nearly a quarter of it throughout the day, and guess what happened? I finished it about 10 minutes after I got home from school. BOOM. I read a whole book in a single day. That might sound commonplace to some readers, but is a big deal for me, who has to take certain breaks whilst reading because I just can't focus that long on one thing. And that serves as proof that Anna And The French Kiss is immensely engrossing and difficult to put down. I may have my problems with it here and there, but it definitely brightened up my (very boring) day with its never-ending fluffiness.
A beautiful setting and just the right amount of depth: This book is set in Paris, which is unusual for a YA novel, but I enjoyed it. There were many descriptions of the local settings and museums and art that Anna explored, and it definitely made me want to explore France and travel abroad in general. The descriptions were a little simplistic, somewhat typical for a chick-lit novel, and I do wish Perkins took it a little further, but I enjoyed reading about the day-to-day life in France, Anna's new life. The overall atmosphere of the book might seem to be a bit sunny and happy most of the time, but there are themes such as belonging and learning to navigate life on your own, which are relatable for teenagers. Not to mention there was much commentary on relationships, intimacy, and unrequited love as well. Etienne has a girlfriend, Rashmi and Josh (Anna's new buddies) have their issues, and Mer (Anna's first 'friend' in Paris) is in love with Etienne. Lots of relationship drama which may get annoying at a point, but I liked how subtly realistic it was when it came to being alone, falling in love, and how it can change you. Again, I do wish it was explored a bit deeper, however for a chick-lit book, these themes were expanded enough to entertain the reader and provide insight.
The frustrating yet likable main characters: The characters were a problematic point to an extent, it's hard to like them and hard to hate them, simultaneously. Anna tends be a bit irritating throughout, mostly due to her actions and words and even thoughts. She comes off as a little dumb towards the beginning, pretty much representing the stereotype of an ignorant American. Her rambling when it came to conversing with Etienne (not all the time though, thank god) was cringey and got me feeling second-hand embarrassment. Fortunately, she changes as the plot moves on, and while she keeps that giggly persona of hers, there is also her struggle with love and all the relationship angst. She notably changes in her overall nature during the period in which she is angry and disappointed in Etienne and how he continues to stay with his girlfriend, Elise, when Anna and him have clearly shown feelings for each other. She turns into a restless, confused, bitchy person and lashes out at several people in her head, atypical for her. This aspect might be annoying most of the time, but I thought it was pretty realistic actually. I mean, when I'm frustrated and confused for a prolonged period of time, I tend to be more on edge than usual. I really don't see all the hype around Etienne though, which caused problems for me considering everyone was constantly kissing his British/French/American ass. He's cute and funny at times, but I just can't seem to love him fully.
Even more conflicting side characters: There are a multitude of side characters that mostly land on the extreme ends of the spectrum. Rashmi and Josh, two of Anna's new friends in Paris, I liked. Rashmi didn't give a shit but also had a softer side and Josh was really funny and relatable. Both of them also had their relationship issues, which was well tied into to the initial theme of loneliness and intimacy. Mer, who Anna meets almost immediately after moving to Paris, I wasn't a big fan of on the other hand. Not her fault, her character was just way too centered around her infatuation with Etienne and I would have liked to see more of a presence from her. Another character, Amanda, was also largely centered around her obsession with Etienne (dude gets way too much hype) and defined the term 'bitchy' perfectly. She was wholly one-dimensional and was made to look impure next to Anna, considering Anna slut-shames her continually throughout the book. Elise, Etienne's girlfriend, was also slut-shamed and wasted as a character. I actually would have liked to know more about her, but her story was obviously not meant to be expanded on.
That confusing yet cute romance: Regardless of my indifference to Etienne and slight irritation of Anna throughout, there was a part of me that wanted them to be together. And how could you not? They aren't lacking in chemistry and while their conversations aren't as witty as I wanted them to be, they are cute together. Unfortunately, there are many elements  inhibiting them from properly starting a romantic relationship. Etienne has a girlfriend, Anna has a boy that she likes back in Atlanta, but they both are attracted to each other. They both have their issues with needing people and being alone that cause rifts in their friendship itself. I honestly don't understand Etienne's deal with Elise still (his 'fear of lonliness' wasn't properly explored) and his whole relationship with Anna was borderline cheating. But, as much as I hated this aspect, the relationship angst definitely captured me. It made their 'fairytale' like relationship so much more realistic and likable even.
Overall, Anna And The French Kiss was a flighty romance that surprisingly and subtly incorporated real-life teenage drama in its story. Not everyone's going to like it, but I'd suggest it to anyone who loves contemporaries in general.
-Haven