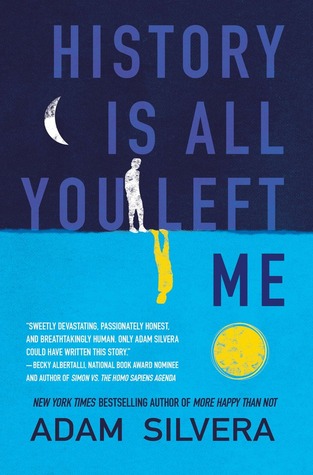 When Griffin's first love and ex-boyfriend, Theo, dies in a drowning accident, his universe implodes. Even though Theo had moved to California for college and started seeing Jackson, Griffin never doubted Theo would come back to him when the time was right. But now, the future he's been imagining for himself has gone far off course.
To make things worse, the only person who truly understands his heartache is Jackson. But no matter how much they open up to each other, Griffin's downward spiral continues. He's losing himself in his obsessive compulsions and destructive choices, and the secrets he's been keeping are tearing him apart.
If Griffin is ever to rebuild his future, he must first confront his history, every last heartbreaking piece in the puzzle of his life.
Just wanted to let y'all know that my AP exams are finally over, and I can freely get back to blogging now. While I've been away from M&B, I have indeed been reading, even if it's slower than usual. Finding time to read during exam weeks may or may not be a good thing, but that's beside the point. I'm back and I couldn't have chosen a more difficult book to review. *sighs*
History Is All You Left Me is one of the most heartbreaking, intense, and dramatic books I've ever read. I can't say it was a book perfectly fit for me, I struggled slightly with the writing throughout the novel. But, it is still an incredibly real and emotional read that not many can pull off. Adam Silvera is very, very talented. Speaking of Silvera, I've actually seen him in real life when I went to a book convention back in March with a friend, and he was openly speaking about his struggle with OCD in the mental health panel, which clearly connects to History Is All You Left Me. He seemed like a really nice guy, and I wish I had read this book back then, or at least his debut novel. Anyway, a little story time for you guys, since I rarely talk about my personal life lmao.
Let's go into detail.
The beautiful writing that has me in a bind of sorts: The writing has me in a terrible bind. I struggled at first, because while Silvera conveys emotion effortlessly there is also a large paragraph following the major point which is overridden with details and repetition. There are a few gems of writing in these, but it's unnecessary most of the time and quite boring. It actually reminded me of my own writing, which tends to dissect every little characteristic of a character or setting and repeat those dissections in different manners (which will probably happen soon in this review if it isn't happening right now). But, the writing is gorgeous, really. It's very consistent in its portrayals of heartbreak and confusion and sadness and every other feeling that is explored within the pages of this book. I found myself falling for Theo, dwelling in the aftermath of his death, and dealing with all the pain that came with it along with Griffin in this book, and it's amazing how the effortlessness of the writing pulls you in so easily. There are anecdotes and musings and statements scattered all over this book that rip you apart with its honesty and rawness, and I do wish Silvera just stuck to keeping these throughout and not expanding on every little thing. Thankfully, while this aspect has me conflicted, it's not too conflicted to make a large impact on the emotional capacity of the book.
Flawed, relatable, and heartbreaking character arcs: The book mainly follows four boys: Griffin, Theo, Jackson, and Wade. The all have different amounts of page time (obviously), but they have to be the most well-defined characters in the novel. The books is told from two time periods: one in the present during the aftermath of Theo's death and the other detailing Griffin's life when Theo was alive. I really like this aspect and it wasn't confusing at all. It actually revealed much more about the characters in the story and had a huge influence on the amount of emotion explored in the book. The details of the complex relationships are slowly revealed over time and this makes the book that much more impactful. Surprisingly, while these boys all have their own flaws, drama, and frustration spilled over the pages, I loved all of them. I loved reading about Griffin's recovery process and his painful path to finding out the truths about the people he loves. I could understand Jackson and Wade's pain with coming to terms about themselves and the things they have experienced. Theo was only there half the time in the flashback period, but I could totally feel his essence and his personality without it being blown out of proportion or sensationalized in the present. These boys have gone through something most of us haven't and will never want to go through, but I could so feel their grief and confusion over something so tragic they had never would have predicted.
The complicated yet honest relationships: There are so many relationships in this book, oh my god. It doesn't seem that way initially, but as the details are revealed over time, it just blows you mind on how interconnected these boys are. Fortunately, while this relationship drama does create more entertainment and makes the story more engaging, it's not solely characterized as 'drama' and actually has a purpose and reasoning behind it. Griffin and Theo's love and friendship was so heartwarming and real, and Griffin and Jackson's reluctant yet necessary meetings were so genuine and honest. Even Griffin and Wade were complicated in the best ways, and while I did think some of the events that took place were a little extra, I enjoyed it nonetheless.
History Is All You Left Me is one of those books that takes you a while to get into, but once you get into it, you are sucked into a universe that is melancholy and raw yet strangely enlightening. It's not a book everyone will like, but if anyone's looking for a powerful and honest LGBTQ story, look no further.
-Haven