Summer is here! You will not believe how excited I am to sit back and relax, and…. go on college visits and do summer homework. Well, homework is an August problem, so might as well read now!
1. Our Dark Duet, by Victoria Schwab – Coming June 13, 2017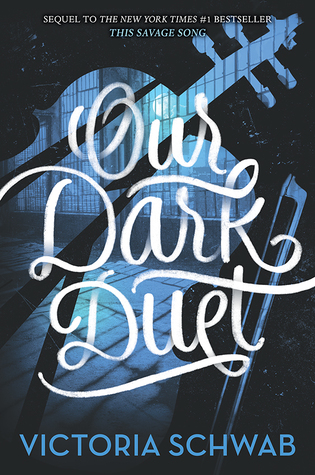 Kate Harker is a girl who isn't afraid of the dark. She's a girl who hunts monsters. And she's good at it. August Flynn is a monster who can never be human, no matter how much he once yearned for it. He's a monster with a part to play. And he will play it, no matter the cost.
Nearly six months after Kate and August were first thrown together, the war between the monsters and the humans is terrifying reality. In Verity, August has become the leader he never wished to be, and in Prosperity, Kate has become the ruthless hunter she knew she could be. When a new monster emerges from the shadows—one who feeds on chaos and brings out its victim's inner demons—it lures Kate home, where she finds more than she bargained for. She'll face a monster she thought she killed, a boy she thought she knew, and a demon all her own.
This is the sequel to This Savage Song, a book by one of my favorite authors ever, Victoria Schwab. Although her Shades of Magic series is better, the first book of this series was super enjoyable, and I look forward to reading this one.
2. Now I Rise, by Kiersten White – Coming June 27, 2017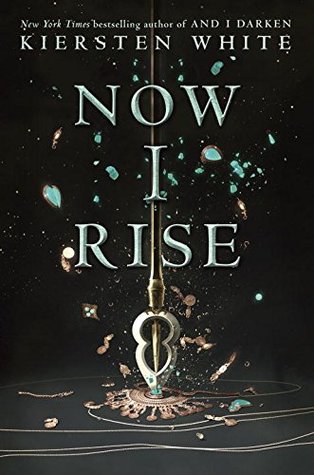 Lada Dracul has no allies. No throne. All she has is what she's always had: herself. After failing to secure the Wallachian throne, Lada is out to punish anyone who dares to cross her blood-strewn path. Filled with a white-hot rage, she storms the countryside with her men, accompanied by her childhood friend Bogdan, terrorizing the land. But brute force isn't getting Lada what she wants. And thinking of Mehmed brings little comfort to her thorny heart. There's no time to wonder whether he still thinks about her, even loves her. She left him before he could leave her.
What Lada needs is her younger brother Radu's subtlety and skill. But Mehmed has sent him to Constantinople—and it's no diplomatic mission. Mehmed wants control of the city, and Radu has earned an unwanted place as a double-crossing spy behind enemy lines. Radu longs for his sister's fierce confidence—but for the first time in his life, he rejects her unexpected plea for help. Torn between loyalties to faith, to the Ottomans, and to Mehmed, he knows he owes Lada nothing. If she dies, he could never forgive himself—but if he fails in Constantinople, will Mehmed ever forgive him?
As nations fall around them, the Dracul siblings must decide: what will they sacrifice to fulfill their destinies? Empires will topple, thrones will be won . . . and souls will be lost.
I read most of the first book in this series, And I Darken, before it was due at the library and I forgot to get back to it. I hear this book is super good, though, and I always love to read about underrepresented regions of the world (Eastern Europe, in this case).
3. Once and for All, by Sarah Dessen – Coming June 6, 2017
As bubbly as champagne and delectable as wedding cake, Once and for All, Sarah Dessen's thirteenth novel, is set in the world of wedding planning, where crises are routine.
Louna, daughter of famed wedding planner Natalie Barrett, has seen every sort of wedding: on the beach, at historic mansions, in fancy hotels and clubs. Perhaps that's why she's cynical about happily-ever-after endings, especially since her own first love ended tragically. When Louna meets charming, happy-go-lucky serial dater Ambrose, she holds him at arm's length. But Ambrose isn't about to be discouraged, now that he's met the one girl he really wants.
Sarah Dessen's many, many fans will adore her latest, a richly satisfying, enormously entertaining story that has everything—humor, romance, and an ending both happy and imperfect, just like life itself.
Sarah Dessen is about as classic as it gets, when it comes to YA romance. Her books follow a very specific formula, but they're always cute, and always fun. I'm sure this next book from her will be the same.
4. The Gentleman's Guide to Vice and Virtue, by Mackenzi Lee – Coming June 27, 2017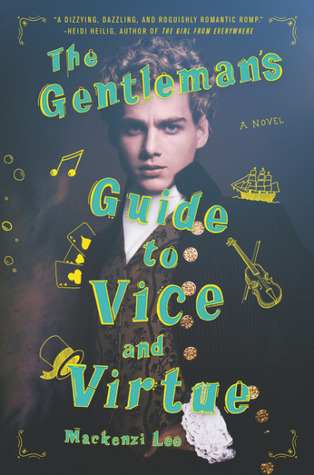 An unforgettable tale of two friends on their Grand Tour of 18th-century Europe who stumble upon a magical artifact that leads them from Paris to Venice in a dangerous manhunt, fighting pirates, highwaymen, and their feelings for each other along the way.
Henry "Monty" Montague was born and bred to be a gentleman, but he was never one to be tamed. The finest boarding schools in England and the constant disapproval of his father haven't been able to curb any of his roguish passions—not for gambling halls, late nights spent with a bottle of spirits, or waking up in the arms of women or men.
But as Monty embarks on his grand tour of Europe, his quest for a life filled with pleasure and vice is in danger of coming to an end. Not only does his father expect him to take over the family's estate upon his return, but Monty is also nursing an impossible crush on his best friend and traveling companion, Percy.
Still it isn't in Monty's nature to give up. Even with his younger sister, Felicity, in tow, he vows to make this yearlong escapade one last hedonistic hurrah and flirt with Percy from Paris to Rome. But when one of Monty's reckless decisions turns their trip abroad into a harrowing manhunt that spans across Europe, it calls into question everything he knows, including his relationship with the boy he adores.
Witty, romantic, and intriguing at every turn, The Gentleman's Guide to Vice and Virtue is a sumptuous romp that explores the undeniably fine lines between friendship and love.
This sounds super cute, and early reviews promise a swoon-worthy gay romance and pirates. Sign me up. 🙂
5. Want, by Cindy Pon – Coming June 13, 2017
From critically acclaimed author Cindy Pon comes an edge-of-your-seat sci-fi thriller, set in a near-future Taipei plagued by pollution, about a group of teens who risk everything to save their city.
Jason Zhou survives in a divided society where the elite use their wealth to buy longer lives. The rich wear special suits, protecting them from the pollution and viruses that plague the city, while those without suffer illness and early deaths. Frustrated by his city's corruption and still grieving the loss of his mother who died as a result of it, Zhou is determined to change things, no matter the cost.
With the help of his friends, Zhou infiltrates the lives of the wealthy in hopes of destroying the international Jin Corporation from within. Jin Corp not only manufactures the special suits the rich rely on, but they may also be manufacturing the pollution that makes them necessary.
Yet the deeper Zhou delves into this new world of excess and wealth, the more muddled his plans become. And against his better judgment, Zhou finds himself falling for Daiyu, the daughter of Jin Corp's CEO. Can Zhou save his city without compromising who he is, or destroying his own heart?
I normally look for new releases from every genre for this post, and this is the sci-fi one. Although it sounds like a typical dystopian, I like that it's set in Taiwan, and not a boring alternative-America sort of thing. Maybe it'll surprise us 🙂
That's it for this month, guys! Happy reading!
~Aliza