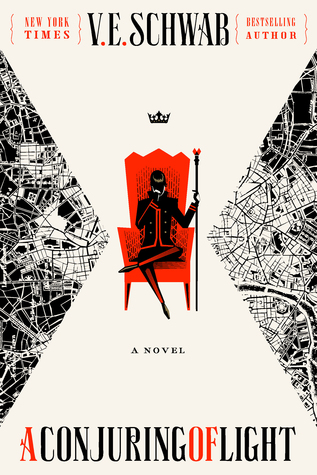 5 Amazing, Amazing, Stars
Witness the fate of beloved heroes – and enemies.
THE BALANCE OF POWER HAS FINALLY TIPPED…
The precarious equilibrium among four Londons has reached its breaking point. Once brimming with the red vivacity of magic, darkness casts a shadow over the Maresh Empire, leaving a space for another London to rise.
WHO WILL CRUMBLE?
Kell – once assumed to be the last surviving Antari – begins to waver under the pressure of competing loyalties. And in the wake of tragedy, can Arnes survive?
WHO WILL RISE?
Lila Bard, once a commonplace – but never common – thief, has survived and flourished through a series of magical trials. But now she must learn to control the magic, before it bleeds her dry. Meanwhile, the disgraced Captain Alucard Emery of the Night Spire collects his crew, attempting a race against time to acquire the impossible.
WHO WILL TAKE CONTROL?
And an ancient enemy returns to claim a crown while a fallen hero tries to save a world in decay.
Many of you out there know that last month, for high schoolers, was AP testing season. I personally, had five AP tests to take, and a whole bunch of stress that came with it. So instead of studying, what did I do? I picked up A Darker Shade of Magic for the second time. And then I picked up the next book. And the next one. And my soul (and hopefully not my test grades) cried with the wrenching knowledge that I had just, within the span of a week, finished what is perhaps one of the most expertly crafted YA series of all time.
This isn't a great book. This is a phenomenal one. For all the filler and buildup of the previous book, this blew away all my expectations for what the final book in this series should be, and I can probably go as far as to say that this third installment is probably the best one out of the three.
A Conjuring of Light picks up immediately after the previous book, and I have to say, the stakes were high. From the very beginning the pace is fast and action-filled, and did not relent until the end. I was on the edge of my seat the entire time, and spent a solid five hours (that I personally couldn't afford to spend) flipping pages faster than I could read them.
Lila and Kell are back, and as awesome as ever, but what I didn't expect was how much I would yearn for moments with Alucard and Rhy, both of whom I mistakenly assumed were side characters but absolutely are not. They are layered and likable in their own ways and really add depth to the story. Although there is character development, the personalities of all the characters does remain constant throughout, and I adore each and every one of them.
But the one person who stole my heart was Holland. Holland is the epitome of a tragic hero, someone forced into terrible situations that left him more than a little mangled, and I was drawn to him most of all. We get a lot more backstory on Holland's end in this book, and it added so much to an already extremely layered character. Holland goes from villain to background character to something in between hero and villain in these three books, and in my opinion, that kind of complexity makes for the best kinds of characters. I definitely shed a tear at the end because I love his character so much.
I mentioned this in my review of the previous book, but in addition to the exquisite world building, the Schwab's style of character romance is on point. Romances in real life don't take precedence over all other more pressing matters, and it absolutely does not intrude even a bit on the plot here. Romantic endeavors are pushed aside to be pursued in calmer times, and that made me cherish the few ship-worthy moments. Nobody likes it when the main characters finally get together after multiple books of teasing, only to lose their capacity to keep their mouths off each other as soon as their relationship becomes official.
If I had to point out a flaw, I would say that I would have liked some answers with regards to Kell's past, as well as a bit more dimensionality to the main villain, but these are minor in the grand scheme of the book.
Overall, the Shades of Magic series, and particularly this last installment, are phenomenal by many standards, and if you haven't read it yet, I would suggest you get your hands in a copy as soon as humanly possible.
~Aliza