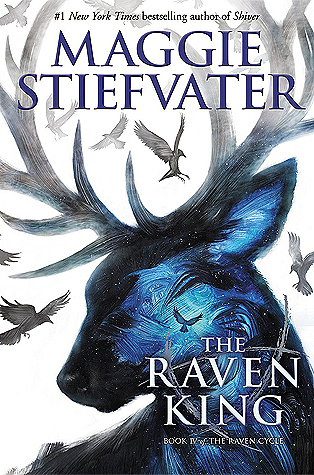 The fourth and final installment in the spellbinding series from the irrepressible, #1 New York Times bestselling author Maggie Stiefvater.
All her life, Blue has been warned that she will cause her true love's death. She doesn't believe in true love and never thought this would be a problem, but as her life becomes caught up in the strange and sinister world of the Raven Boys, she's not so sure anymore.
I'm teetering between giving this book 3 or 3.5 stars, because while I liked the majority of the book, the ending failed to live up to the theatricality of the rest of the series, and failed the conjure up the amount of emotion I should have felt. If I gave into simply remembering the last few chapters, this book would have been a 3-star read, but the story as a whole was just as enjoyable as the others. I still can't forget that clusterfuck of an ending though.
The writing was beautiful, as usual, but I did notice something different about it. Stiefvater relies heavily on further defining the 'aesthetic' of the series and describing the overall vibe of a setting, character, or group of characters in this particular book. There are a number of shorter, more descriptive sentences that encompass the feeling or visual aesthetic, which I quite liked, actually. This isn't as easily seen in the other books, but I like how it totally enhanced the story without feeling forced. I'm usually very keen on emotional expression in the finales, and Stiefvater definitely delivered. Even if her writing style isn't conventionally raw and honest while conveying emotion, the amount of feeling is still abundant through the unique prose.
In my opinion, the fantasy/science-fiction portions left a lot to be desired. There are a good amount of newer fantasy/sci-fi aspects introduced and they are somewhat elaborated on, such as Blue's background and history behind her father and Henry Cheng's whole deal. However, I still feel disconnected from these concepts besides there wasn't enough time or elaboration involved for me to truly understand and absorb it. There are so many revelations made about the characters and the whole Raven Cycle world that are only quickly touched upon and left behind with no resolve. It almost makes me wish for another book, so everything can sink in properly.
As expected, the characters were brilliant and my favorite part of the book. All of them are still struggling to utilize their powers and discover further details about themselves to ultimately find Glendower and possibly save Gansey. I loved the emotion involved with out four main characters, it was so truthful yet poignant and understandable. The relationships between Ronan and his brothers, Gansey and Blue, and Ronan and Adam are further developed and constantly had me in the feels.
I don't want to say much about the ending parts because I'll be spoiling otherwise, but it did let me down to an extent. Honestly, it felt as though all the emotion that had been covered throughout the rest of the book was a waste, considering the very end, the climax, the true end was incredibly lackluster and anti-climatic. Everything was stated so plainly and blandly and things … just happened. I wish I could say more but I don't want to spoil, and I don't want to discuss spoilers because my thoughts are so jumbled and I'd probably never get them organized. Long story short, I hated that epilogue. Straight up.
Finales of series/trilogies are always difficult to read/review, because they could either make or break the series for you. I don't remotely dislike The Raven King, but that ending was so soulless that I had to dock a star off. It's upsetting to be dissatisfied with a goodbye to a series, but it is what it is.
-Haven