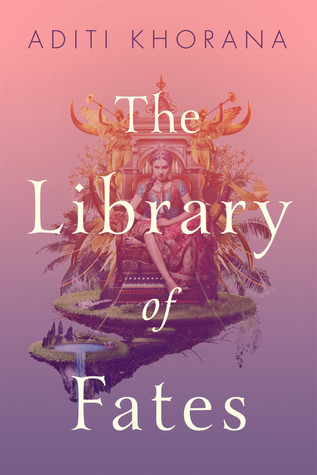 1.75 stars (I'm aware that this is probably the most ridiculous rating I've ever given)
No one is entirely certain what brings the Emperor Sikander to Shalingar. Until now, the idyllic kingdom has been immune to his many violent conquests. To keep the visit friendly, Princess Amrita has offered herself as his bride, sacrificing everything—family, her childhood love, and her freedom—to save her people. But her offer isn't enough.
The palace is soon under siege, and Amrita finds herself a fugitive, utterly alone but for an oracle named Thala, who was kept by Sikander as a slave and managed to escape amid the chaos. With nothing and no one else to turn to, Amrita and Thala are forced to rely on each other. But while Amrita feels responsible for her kingdom and sets out to warn her people, the newly free Thala has no such ties. She encourages Amrita to go on a quest to find the fabled Library of All Things, where it is possible for each of them to reverse their fates. To go back to before Sikander took everything from them.
Stripped of all that she loves, caught between her rosy past and an unknown future, will Amrita be able to restore what was lost, or does another life—and another love—await?
I had been scarily intent on getting my hands on The Library Of Fates ever since my eyes brushed over the striking cover, and while there are an increasing number of books coming out on Indian folklore, it's still pretty rare to see one and I wasn't going to miss The Library Of Fates for the world. But, I suppose I should have turned to The Star-Touched Queen to get my South Asian fill because this book managed to disappoint me in number of ways. A much too convenient progression of events and flat character writing contributed the most to my disappointment, but to see all this potential go to waste is the saddest of all.
The world-building is fairly okay, as I do have a feel for the two main kingdoms the story is set in, the small yet free Shalinger, and the grand but conservative Macedon. Unfortunately, I have no idea what the rest of this world looks like which is why it should be mandatory for every fantasy novel to include a map. I did enjoy the descriptions of the atmosphere, it felt South Indian as hell and I'm South Indian as hell, so it was damn cool to see my culture (in varations) on the page. It kind of made me want to watch one of those Hindi period dramas that have been trending recently, you know, the ones that Ranveer Singh and Deepika Padukone have been in? I swear those two are all I see these days in Hindi cinema, not that I'm complaining. I probably should have watched the Padmavati trailer a few times before attempting to visualize the beauty and richness of the Indian culture expressed in this book, but I felt it nonetheless.
The story is also ridden with mythological and folk tales naturally, which I appreciated as well. These stories aren't real of course but the elements they contained felt very familiar, but sadly, the familiarity of the novel's culture and atmosphere was the only thing keeping me afloat throughout the course of this book. The story and plot itself were highly convenient and calculated to the point in which I had predicted the whole 'twist' beforehand. Things came much too easily to Amrita, making the story completely devoid of any tension or excitement. The writing seemed incredibly juvenile, especially when it came to the more intense scenes, in which the prose failed to inject any sort of liveliness. I really like the concept behind the story and what message it is supposed to tell, but it never really came full circle to me because of the utter blandness, and worse, the lack of complexity, behind the plot and characters.
Typically, by this point if I think the plot is crappy and the writing is crappy, I can rely on the characters to pull me through the novel with mild interest, and books like these are mostly rated 3 stars if I'm in a good mood, maybe even a 3.25 (there's a big difference between the two for me, don't judge). Obviously, the characters did not come through. Amrita is blander than … the blandest thing you could think of. First off, I could not find any reason to root for her because her personality was incredibly lacking in complexity. I despise characters that are inherently good-natured and two-dimensional in such a way. Another aspect that has probably contributed to this was the fact that everything came so easily for her. Her whole journey is so calculated and unsurprising, I never got to experience Amrita actually growing and facing her challenges, and the times where she is mildly challenged, the writing never came through to show (show, not tell) the emotion behind her changing character.
Thala actually seems to be a more complex character, but due to faults in the crafting of her backstory and general lack of insight into it, she was lost on me as well. The side characters, namely Amrita's love interests, Arjun and Varun, were even less complex, which obviously made the romance aspect incredibly dull. Perhaps my biggest disappointment involving the characters is the total lack of dynamic and energy between Thala and Amrita. While I did like how they ended up forging a deep friendship, I definitely wanted more entertainment from them both. It didn't have to be comedic, they didn't have to make out (but god knows I was secretly wishing for this), they just had to create a unique energy between them both that kept me excited and entertained.
For those who enjoy younger-sounding fantasies and are looking for some South Asian-based stories, this will be a perfect fit for you. Sadly, The Library Of Fates wasn't for me but I am happy that Indian mythology is gaining more attention in the YA world.
-Haven