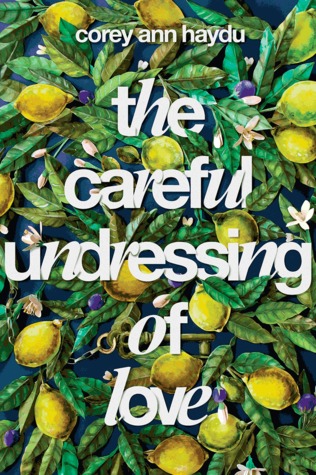 Everyone who really knows Brooklyn knows Devonairre Street girls are different. They're the ones you shouldn't fall in love with. The ones with the curse. The ones who can get you killed.
Lorna Ryder is a Devonairre Street girl, and for years, paying lip service to the curse has been the small price of living in a neighborhood full of memories of her father, one of the thousands killed five years earlier in the 2001 Times Square Bombing. Then her best friend's boyfriend is killed, and suddenly a city paralyzed by dread of another terrorist attack is obsessed with Devonairre Street and the price of falling in love.
Set in an America where recent history has followed a different path.
The Careful Undressing Of Love is one strange, strange book. I'm actually not well acquainted with the magical realism genre, but my curiosity in it has definitely increased after finishing this bizarre yet beautiful story. Interestingly, the book is not plot-lead (some might even say there is no plot, ha) or character-lead, but the themes of first love, freedom, and finding one's identity carry the book into something that leaves a strong impression.
To start off, I have to say that I adore this book's aesthetic. I'm huge on stories that can convey an atmosphere simply through great writing, and the whimsical, magical, and strange vibe of Devonairre Street was nearly palpable. The writing was gorgeous without trying too hard, especially when describing Lorna's grief, confusion, and anger. Trudging through the book may take some effort, because it is easy to notice that the plot is quite thin, and often, missing. I finished the book in one day, mainly because it was short and I didn't have anything else to do (winter break whoop whoop! let the boredom fun begin!!), but also because the writing was so well-done.
As stated in summary, this story is set in an alternate version of our world, in which sadness and mourning and moments of silence are all part of the peoples' daily thoughts and routines. A bombing in Times Square claims the lives of thousands, including Lorna's father, and the stories and names of those affected are memorized so they are never forgotten. Haydu raises some interesting points while using the both the intricacies and chaos of this altered world marked by tragedy. Society's tendency to unknowingly ostracize those who are different, as well as the way we all limit ourselves to perceiving others one-dimensionally are explored through how the Devonairre Street girls are treated because of the superstition surrounding them. I love how human nature is assessed in this book while incorporating the many themes encompassing love and growing up.
Like I said, the themes carry more importance than the characters in this book, but the characters are indeed written well enough to leave a solid impression. Lorna, Delilah, Charlotte, Cruz, and Isla are all fully developed personalities, and it's intriguing, heartbreaking, and straight-up anxiety-inducing to see how they individually deal with all the tragedies happening around them, as well as being subject to the limitations and expectations set by the Curse. Lorna deals with the prospect of defining what love actually is, and struggles to find herself in the midst of the hysteria and superstition. I certainly enjoyed reading about her struggle, and I loved it for making me uncomfortable at times because it fully peeled back the layers of what makes us human in such a poignant manner. A literal undressing of love.
I would definitely recommend The Careful Undressing Of Love to those already a fan of the magical realism genre, and to those that are new to it, don't be afraid to jump in and give it a try. It might weird you out a bit, but it's definitely worth it.
Rating: 4 stars
What are your thoughts on this book if you've read it before? Thoughts on magical realism? Let me know in the comments 🙂