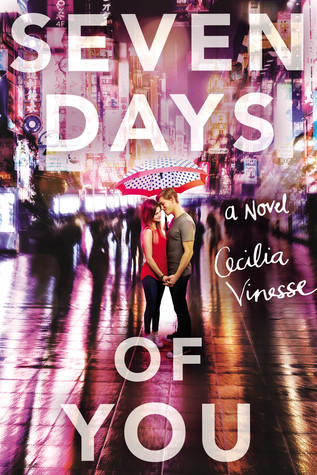 2.25 stars
Sophia has seven days left in Tokyo before she moves back to the States. Seven days to say good-bye to the electric city, her wild best friend, and the boy she's harbored a semi-secret crush on for years. Seven perfect days…until Jamie Foster-Collins moves back to Japan and ruins everything.
Jamie and Sophia have a history of heartbreak, and the last thing Sophia wants is for him to steal her leaving thunder with his stupid arriving thunder. Yet as the week counts down, the relationships she thought were stable begin to explode around her. And Jamie is the one who helps her pick up the pieces. Sophia is forced to admit she may have misjudged Jamie, but can their seven short days of Tokyo adventures end in anything but good-bye?
The first thought that came to mind when reading the premise of Seven Days Of You was its similarity to Anna And The French Kiss: both take place in a foreign country, explores the dynamics of a group of friends attending an international school, and of course, the main character falls in love with a shit load of drama ensuing. And while each book has its pros and cons, its similarities and differences, I have to say Anna And The French Kiss was infinitely better while Seven Days Of You was infinitely worse. Care to stick around to find out why?
This story is set in Tokyo, Japan — and the author makes it clear the minute we scan our eyes over the page. The book is brimming with descriptions of neon lights, Japanese cuisine, and the hints of culture Sophia sees every day. I could definitely feel the colorfulness pop off the page immediately, but my interest died down quickly because of how hard it tried. The sprinkling of Japanese words here and there and the repetitive descriptions of Tokyo night life showed me nothing about the vibrancy of the setting, it was prime example of telling, not showing. Unfortunately, the pacing and plot didn't do wonders for me either. The story takes place in the span of 7 days, and while I liked running motif of the countdown to when Sophia leaves for New Jersey on the top of each chapter, the pacing of the characters' interactions and dynamics felt altogether rushed and unrealistic. It is difficult to tell a story that takes place over a week, but the romance and character development felt too dramatic and simply did not give me a sense of understanding and feeling for whatever Sophia was going through.
I can say with the utmost certainty that the characters were the worst part of this book, which does not bode well for a character-based reader like me. I can deal with an annoying, flawed cast, but these characters were simply created to start drama, angst, and be immature for the sake of being immature. Sophia was incredibly flawed and had inner conflicts, but her narration was one of a 7 year old. Her childishness, selfishness, and overall naivete made it so difficult to take her seriously. She actually reminded me of Isla from Isla And The Happily Ever After but far more annoying because everyone seemed to pine after her anyway, even when she made the stupidest, more illogical decisions.
Damn, if you thought Sophia was irritating, you've got a whole storm coming with the side characters. Mika, David, Jamie, and Caroline only exist to angst and start the most unnecessary shit. Mika and David was such assholes, but it isn't even them, it's the way their characters are handled in relation to Sophia. The way this supposedly tight-knit group of friends unraveled so swiftly within a week due to their own irrationality was laughable and so, so forced. The relationships between each of the characters were a colossal mess, complicated and dramatic for the sake of entertainment. Nothing felt real or organic, especially the 'friendship' between Sophia and Mika and Sophia's relationship with her crush David.
I like how Vinesse tried to make the romance slow and just as awkward as falling in love for the first time, and while there were a plethora of awkward moments, it was told in a cute and relatable way. Unfortunately, my heart was not in it because it felt, again, too forced and unnatural. To start off, Sophia and Jamie aren't the most interesting, fleshed out characters, so it was difficult to stay invested in them throughout. Also, Sophia and Jamie's 'damaged' relationship in the beginning already felt very petty and over dramatic, more so when you find out what actually drove them apart. Their romantic progression from there went far too fast for me, within a week Sophia goes from avoiding Jamie at all costs to wanting to kiss him. The aspect of resolving their relationship and re-starting it fell completely flat for me.
If you're a contemporary fan looking for a mature romance taking place in a unique setting, look elsewhere than Seven Days Of You. It has its mature moments here and there, but they aren't worth sticking around the drama for. Anna And The French Kiss is much more entertaining in my opinion.