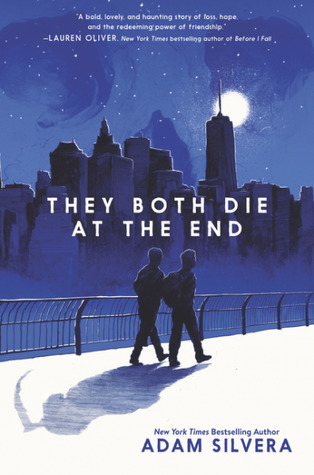 Adam Silvera reminds us that there's no life without death and no love without loss in this devastating yet uplifting story about two people whose lives change over the course of one unforgettable day.
On September 5, a little after midnight, Death-Cast calls Mateo Torrez and Rufus Emeterio to give them some bad news: They're going to die today.
Mateo and Rufus are total strangers, but, for different reasons, they're both looking to make a new friend on their End Day. The good news: There's an app for that. It's called the Last Friend, and through it, Rufus and Mateo are about to meet up for one last great adventure—to live a lifetime in a single day.
Adam Silvera is one of those talented authors that doesn't need to do much to create a lasting, emotional impact that leaves you feeling hollow and sad yet strangely happy at the same time. His previous two novels, More Happy Than Not and History Is All You Left Me, carried grand emotional themes that were overwhelming yet perfectly contained at the same time, and that aspect is what I specifically looked for in They Both Die At The End, among other elements that Silvera excels at. I think my rating speaks for itself: I didn't get it. Ha!
This story is essentially set in an alternate world where a company named Death-Cast lets people know when they will die, on the day that they will die. Those who are experiencing their Last Day, called Deckers, are allowed to live to the fullest through several technological services available. Last Friend, an app that connects Deckers who are looking for a friend to spend their last day with, is how Rufus and Mateo come together. It's a pretty fascinating concept, but hardly fleshed out at the same time. The atmosphere of this world did not feel as concrete or palpable as Silvera's previous novels, and while it's primarily a contemporary and not a sci-fi novel, some world-building could have helped enhance the characters, themes, and writing, which definitely needed some enhancing.
I appreciate the crazy amount of diversity between Rufus and Mateo, but they still fell incredibly flat to me, which is something I'm not used to at all, because hello! We are talking about Adam Silvera here, right? Unfortunately, Rufus and Mateo had extensive but ordinarily tragic backstories that failed to conjure any emotion in me other than disinterest. I couldn't hold any interest in their personalities, and the realization of their feelings for each other was written so abruptly even when I knew it was going to happen all along. I suppose 'falling in love in one day' stories are simply not for me (I've disliked nearly every romance that took place like that besides a select few), but if any author was going to make them work for me, I would bet on Adam freaking Silvera. *sighs* Life is full of disappointments indeed.
The worst part is the fact that I could have gotten past all the disappointments, or least have finished the book in less time, if it was the tiniest bit engaging. For the most part, the only feeling I felt toward the plot was one of extreme boredom, because my god, it dragged. Dragged me straight to hell with Rufus and Mateo's monotone adventures and musings and unneeded subplots. The writing concentrated way too much on forcing the emotional impact instead of letting it come naturally, which is something that Silvera doesn't even need to do! His previous books weren't so unsubtle in the delivery of their messages, and I don't know what happened with this one.
On a more positive note (take the word 'positive' lightly), I really liked the inclusion of various POVs from several minor characters. These characters are all connected in some way to Rufus and Mateo, but we are also allowed to see how they cope with their Last Days or the lives they are living in this crazy alternate world. All of their backgrounds are different, and it's interesting to explore how they are involved in this mess. It really extenuated the theme of living a lifetime in a day much more subtly and less cliched than Rufus and Mateo's story had.
I will admit the ending was definitely very powerful, but the emotional impact (or lack thereof, rather) the rest of the book carried was not enough to impress me. Really upsetting, considering my love for Silvera's other two contemporaries, but I haven't lost hope.
Rating: 2.5 stars