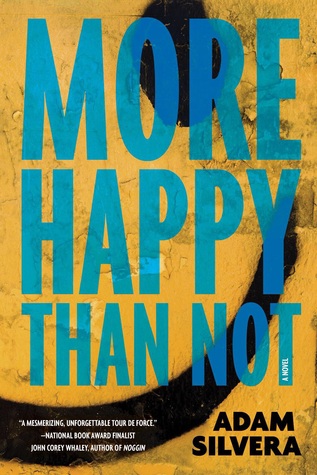 4.5 stars 
Adam Silvera's extraordinary debut confronts race, class, and sexuality during one charged near-future summer in the Bronx.
Part Eternal Sunshine of the Spotless Mind, part Aristotle and Dante Discover the Secrets of the Universe, Adam Silvera's extraordinary debut confronts race, class, and sexuality during one charged near-future summer in the Bronx. 
The Leteo Institute's revolutionary memory-relief procedure seems too good to be true to Aaron Soto – miracle cure-alls don't tend to pop up in the Bronx projects. But Aaron can't forget how he's grown up poor or how his friends aren't always there for him. Like after his father committed suicide in their one bedroom apartment. Aaron has the support of his patient girlfriend, if not necessarily his distant brother and overworked mother, but it's not enough. 
Then Thomas shows up. He has a sweet movie-watching setup on his roof, and he doesn't mind Aaron's obsession with a popular fantasy series. There are nicknames, inside jokes. Most importantly, Thomas doesn't mind talking about Aaron's past. But Aaron's newfound happiness isn't welcome on his block. Since he's can't stay away from Thomas or suddenly stop being gay, Aaron must turn to Leteo to straighten himself out, even if it means forgetting who he is.
Adam Silvera's novels should come with warning labels on the covers, saying "only proceed further if you are ready to suffer constant bouts of sadness and depression throughout the book and after finishing it." The only other Silvera novel I've read was History Is All You Left Me and I thought it was one of the most distressing books I've ever read, but More Happy Than Not seemed to be more than happy to top the list. This book took me through such an intense experience, it started off so unassuming (though I did know it was going to get worse) and then just turned into this twisted, distressing, emotional mind-fuck. But you know what? Even if it was incredibly sad and painful to read, More Happy Than Not is easily one of the best YA books ever written due to a number of reasons.
First off, the writing was absolutely gorgeous. And by gorgeous, I mean totally raw, honest, and heartbreaking without being too dramatic or cliche. There is actually a remarkable difference between the prose seen in this book and History Is All You Left Me, the latter was filled with extensive descriptions of settings and emotions, making every event taking place so much more intense. This was one of the few aspects of the book that hindered my reading experience, but the prose in More Happy Than Not largely differs from this, and I loved it. It's so truthful and real, and Silvera shows life's ugliness so effortlessly without adding extra commentary to spice up the drama. The violence, cursing, and pain was so heartbreaking to read but so well-written at the same time. I also loved the atmosphere Silvera created, the story is set in the Bronx and all the little things that extenuate its mood match perfectly with the characters and their relationships toward one another.
I've only read two Silvera books so far, but those new to his work should know that it will only get worse and worse for the characters as the story goes on. You think things are going well, and BAM. Violence. Tragedy. Heartbreak. These characters can never catch a fucking break, and its absolute ass for the reader because they're all written so damn well. Aaron, Thomas, Genevieve, and all the other characters in the book are so relatable, honest, funny, and just real. I loved their relationships with each other and the numerous nerdy references they made throughout the novel. But, what I like most about Silvera's characters is how they're not afraid to get vulnerable. Aaron goes through most of this book feeling broken, frustrated, and helpless, and while I can't relate to any of the horror he's faced, his emotion bursts off the page and is so visceral, that I can clearly feel the hurt coursing through my heart. Thomas and Genevieve are equally flawed, well-developed characters, nothing about them or even the minor characters seem one-dimensional. All of the shades of their personality are shown in such realistic ways.
The amount of themes embedded in this book are crazy and expressed so subtly. Aaron not only struggles with accepting himself and his sexuality, but also has to deal with mental health issues stemming from his father's death, his not-so-luxurious living and financial situation, and his scarred friends and neighborhood. Silvera tackles so many problems with such clarity and honesty, that it's difficult to avoid the pain while watching these events unfold but also easy to connect and understand it. While the craziness takes some time to settle in, once it hits you, it is absolutely brutal. I can't say much without spoiling, but the progression of the plot and story are so well-done that every piece of emotion sent your way is so deep-rooted.
More Happy Than Not is not an easy book to read by any means, but it is still absolutely necessary to read. There are few novels out there that can tell an emotional, raw story with such truthfulness and poignancy. But this is one of those rare books out there that will resonate with you and I urge you all to give it a try. You won't forget it.
-Haven