Is it just me, or has January passed by really fast? I feel like I wasn't even aware that January was January because it went by that quick. Fortunately, there are a ton of upcoming books this month from familiar authors to keep me company and help me cope with whatever the hell was happening with January. Here are my most anticipated February releases!
Release Date: February 13th, 2018

Javan Najafai, crown prince of Akram, has spent the last ten years at an elite boarding school, far away from his kingdom. But his eagerly awaited return home is cut short when a mysterious imposter takes his place—and no one believes Javan is the true prince.

After barely escaping the imposter's assassins, Javan is thrown into Maqbara, the kingdom's most dangerous prison. The only way to gain an audience with the king — and reveal Javan's identity — is to fight in Maqbara's yearly tournament. But winning is much harder than acing competitions at school, and soon Javan finds himself beset not just by the terrifying creatures in the arena, but also a band of prisoners allied against him, and even the warden herself.

The only person who can help him is Sajda, who has been enslaved by Maqbara's warden since she was a child, and whose guarded demeanor and powerful right hook keep the prisoners in check. Working with Sajda might be the only way Javan can escape alive — but she has dangerous secrets.

Together, Javan and Sajda have to outwit the vicious warden, outfight the deadly creatures, and outlast the murderous prisoners intent on killing Javan. If they fail, they'll be trapped in Maqbara for good—and the secret Sajda's been hiding will bury them both.
This upcoming release is actually the third installment of the Ravenspire series, but all of the books are essentially standalones, telling separate stories set in different kingdoms in the same world. I like this idea and I like the premise of this book, a fairy tale retelling based on an Arabian story? Count me the hell in.
Release Date: February 27th, 2018

Nothing is as it seems in the kingdom of Antora. Kestra Dallisor has spent three years in exile in the Lava Fields, but that won't stop her from being drawn back into her father's palace politics. He's the right hand man of the cruel king, Lord Endrick, which makes Kestra a valuable bargaining chip. A group of rebels knows this all too well — and they snatch Kestra from her carriage as she reluctantly travels home. The kidnappers want her to retrieve the lost Olden Blade, the only object that can destroy the immortal king, but Kestra is not the obedient captive they expected. Simon, one of her kidnappers, will have his hands full as Kestra tries to foil their plot, by force, cunning, or any means necessary. As motives shift and secrets emerge, both will have to decide what — and who — it is they're fighting for.
YA fantasies really do love their traitors, don't they? 🙂 I've had some experience with Jennifer E. Nielson as I read her book The False Prince a long while back. I remember enjoying it and I have no doubt this one will be just as engaging. I love the cover and Kestra gives me Celaena Sardothien vibes, which may be a great thing or a giant mistake. I'm totally ready to find out though.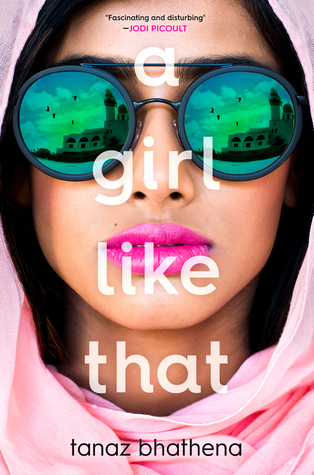 Release Date: February 27th, 2017

A timeless exploration of high-stakes romance, self-discovery, and the lengths we go to love and be loved. 

Sixteen-year-old Zarin Wadia is many things: a bright and vivacious student, an orphan, a risk taker. She's also the kind of girl that parents warn their kids to stay away from: a troublemaker whose many romances are the subject of endless gossip at school.  You don't want to get involved with a girl like that, they say. So how is it that eighteen-year-old Porus Dumasia has only ever had eyes for her? And how did Zarin and Porus end up dead in a car together, crashed on the side of a highway in Jeddah, Saudi Arabia? When the religious police arrive on the scene, everything everyone thought they knew about Zarin is questioned. And as her story is pieced together, told through multiple perspectives, it becomes clear that she was far more than just a girl like that.

This beautifully written debut novel from Tanaz Bhathena reveals a rich and wonderful new world to readers. It tackles complicated issues of race, identity, class, and religion, and paints a portrait of teenage ambition, angst, and alienation that feels both inventive and universal.
Can I get an amen for this premise?! There have been a huge number of novels coming out featuring Muslim protagonists and I hate that I haven't gotten to any of them yet. It's  incredibly important to talk about such issues especially considering the events taking place in the world right now, and I love that people are speaking up about it by sharing these stories. This book sounds mysterious and relatable at the same time and I can't wait to dive into it.
Thanks for viewing, guys! What February releases are you most hyped for? Let me know in the comments below 🙂