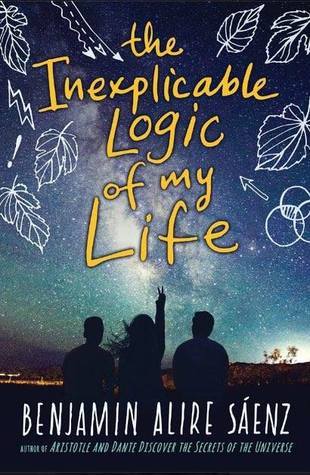 3 1/4 stars
The first day of senior year:
Everything is about to change. Until this moment, Sal has always been certain of his place with his adoptive gay father and their loving Mexican-American family. But now his own history unexpectedly haunts him, and life-altering events force him and his best friend, Samantha, to confront issues of faith, loss, and grief.
Suddenly Sal is throwing punches, questioning everything, and discovering that he no longer knows who he really is—but if Sal's not who he thought he was, who is he?
Me trying to calculate where this book and I went wrong:
Huh, this is unexpected. Really. I remember reading Aristotle And Dante Discover The Secrets Of The Universe a while ago and thinking it was a brilliant-ass book, and I also remember expecting and wanting Saenz's next novel to be a brilliant-ass book. Well, here we are and I am clearly not in that position. I didn't hate The Inexplicable Logic Of My Life, but I was also hella confused and irritated and bored throughout, and while there were a few elements that this book did right, there were just as many done not-as-well. I am once again in a state of conflict and disappointment when I least expected it.
The Good
The themes: Unsurprisingly, there are a plethora of themes and social issues addressed. Race, sexuality, mental health, friendship, and family are only a few of the themes totally explored in this book, and of course there is tons of diversity to go around. I really like how Saenz brings together all these people from different backgrounds and meshes them realistically.
The relationships between the characters: I loved Sal and Sam's very platonic male-female friendship, I was half expecting them to get together and when it didn't happen, I was fine with it, because their friendship was already written so well. The relationship between Sal, Sam, and Fito was also great and I loved the complex yet easygoing relationship between Sal and his father. The family aspect of this novel was also gorgeous, and I enjoyed exploring the dynamics of Sal's family and how close everyone was. Discovering your identity was also a huge part of this novel, as Sal largely struggles with how he's supposedly changing. I especially appreciated the relatability of Sal's thoughts on college and his future. I could totally understand all the anxiousness and confusion as I am in the position of applying to colleges and figuring myself out too. While Sal's feelings of nervousness and fear stem from a different place, they were conveyed in a really understandable way for everyone going through the same thing.
The characters themselves: The characters were classic Saenz, if that makes any sense. Strong, but vulnerable and complicated yet somehow easy to understand. Sal was interesting, he was a more sensitive yet strong-willed male character, who wasn't afraid to be vulnerable and show his emotions. In fact, many of the characters were incredibly honest with their feelings, and this definitely has its negative effects, but I did like it because it brought out different sides of them. Sam was a very bold character who might piss some people off, but I definitely enjoyed her presence. I did feel as though the author was trying too hard to make her different 'from other girls' and quirky, but her character was still interesting. Fito, I loved as well, and Sal's father and his extended family were such great people too.
The Bad
The nonexistent plot: Okay, plot. What plot?? The amount of events that took place in this book were overwhelming, more so than it should be because there is so much going on yet nothing heading toward a point, or theme that is especially emphasized. In the beginning of the book, Sal gets into a 'fight' and he later wonders how his emotional state became so volatile so easily. There was hardly any buildup to this revelation and it heads off into nowhere, much like the other elements of this book. While there are so many themes expressed, none of them were fleshed out enough because the whole novel is simply a series of events without any direction. I'm a character-based reader, but I still need a strong enough plot to keep me engaged and not fast asleep.
The lack of emotional impact: One of the greatest things about Aristotle And Dante was the huge emotional weight it carried, and how it was expressed through the prose in a subtle, relatable, and totally non-corny way. Well, either Saenz switched things up in this one or I don't remember Aristotle And Dante at all, because things were pretty damn different. The writing is uber-choppy and straightforward, and while it only added to the emotional impact in Aristotle And Dante, it took away from this one. Everything was so jilted and repetitive, it was so hard to draw any emotion from the prose because it was all so, so dull. Completely drained from any sort of feeling.
I would say The Inexplicable Logic Of My Life would appeal to those who loved Aristotle And Dante, but that would be somewhat invalid as I find myself supremely confused and conflicted with this one, regardless of my love for the latter. Give it a try if you're already a fan of the author, but don't expect to be wowed.
Thanks for reading, peeps. If you've already read this one, what did you think of it? Did it leave you disappointed? Emotional? Shooketh to the core? Let me know! 🙂