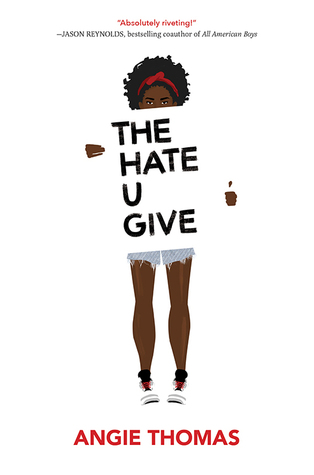 Sixteen-year-old Starr Carter moves between two worlds: the poor neighborhood where she lives and the fancy suburban prep school she attends. The uneasy balance between these worlds is shattered when Starr witnesses the fatal shooting of her childhood best friend Khalil at the hands of a police officer. Khalil was unarmed.
Soon afterward, his death is a national headline. Some are calling him a thug, maybe even a drug dealer and a gangbanger. Protesters are taking to the streets in Khalil's name. Some cops and the local drug lord try to intimidate Starr and her family. What everyone wants to know is: what really went down that night? And the only person alive who can answer that is Starr.
But what Starr does or does not say could upend her community. It could also endanger her life.
The Hate U Give is such a hyped, highly-sought after commodity and I've actually avoided many reviews and the book itself for a long while, just because I was afraid to be let down. My expectations went sky high for this one, and because of all the tragic events taking place in the black community, I even feared disliking it. However, The Hate U Give indeed lives up to the hype with a very significant message behind it, and I was overall impressed with how Thomas weaved an uplifting and inspiring story with more darker, powerful themes.
The atmosphere and prose: This book takes place across two major settings: Starr's neighborhood, Garden Heights, and her fancy private school Williamson. I loved the way Thomas peeled back the layers on each of these settings, redefining the stereotypes and adding character and originality to both. Starr lives in a poverty-stricken environment filled with gangs and violence, but goes to a wealthier private school out of town which contains a majority of white students. I loved the way Thomas added a sense of familiarity and relatability to Starr's hometown through building stores, parks, houses, and even the gangs involved. It was quite interesting to see the distinction between each area and how it affects Starr and her family psychologically, and this worked out so well due to the well-defined individual environments. The prose was surprisingly very informal, which I really liked to an extent. I felt as though the dialogue and overall commentary was brought to life easily, in all the happy, angry, and frustrated moments. There are times where I wish the writing wasn't as casual, and a little more poignant in its commentary of the issues plaguing Starr, her family, and everyone affected by Khalil's death. There was a surplus of dialogue throughout the novel, and I often felt as though there wasn't enough commentary to match it.
The perfectly defined characters: Other than the great way this book delivers its message, the characters were my favorite part of this novel. Starr is incredibly relatable and realistic. Her vulnerability, anger, and sadness in such a situation is so well-expressed and it's heartbreaking to imagine that so many other people her age have been similarly affected by such terrible acts. Her struggle to come to terms with what happened and how she plays a part in the grand scheme of things, as well as her courage and fierceness, are wonderfully realistic and uplifting. Amazingly, the side characters involved were equally three-dimensional. I adored Starr's sincere and heartwarming immediate and extended family, from her tell-it-like-it-is Nana to her mischievous younger brother, Sekani.  I specifically admired Starr's father, his history and personality was incredibly layered and well-defined, and the emotions and actions her presented spoke volumes. Even the minor characters like Mr. Lewis and Iesha were so full of life.
A multitude of emotion and range of messages: This book is based on the Black Lives Matter and it exemplifies all that it is perfectly. It has a special way of taking you inside this girl's head and witness what is going on in the world right now, firsthand and up close. We experience Khalil's murder right away, and many of the events taking place afterward are equally shocking, upsetting, and so real. There are even instances where Starr notices that the news of Khalil's death has spread on Twitter and the internet in general, and how people are protesting everywhere, demanding justice. What's amazing, is the fact that all the other social issues depicted in the novel are all equally well-developed. This book explores interracial couples, familial and cultural dynamics, and even the psychology and history behind all the violence and gang banging in Starr's neighborhood. Thomas has exposed a range of topics with utter poise, but never shies away from honesty and rawness.
The only things I have to complain about would be the casual prose and the length of the novel. While the book certainly wasn't boring, it seemed to drag a bit every now and then and I couldn't pinpoint the direction. Other than that, the hype is very, very real. I would urge everyone to read this book right away, not only because it's the 'it' book of right now, but because it expresses a range of social/political issues in an emotive, realistic, and inspiring way like no other.
-Haven