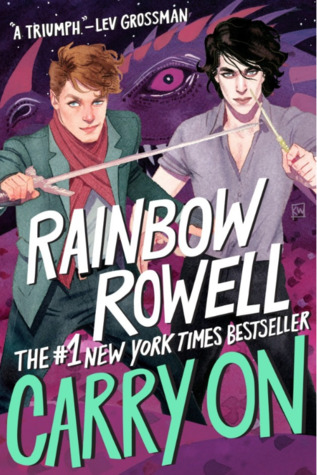 4.5 Stars
Simon Snow is the worst Chosen One who's ever been chosen.
That's what his roommate, Baz, says. And Baz might be evil and a vampire and a complete git, but he's probably right.
Half the time, Simon can't even make his wand work, and the other half, he starts something on fire. His mentor's avoiding him, his girlfriend broke up with him, and there's a magic-eating monster running around, wearing Simon's face. Baz would be having a field day with all this, if he were here — it's their last year at the Watford School of Magicks, and Simon's infuriating nemesis didn't even bother to show up.
Carry On – The Rise and Fall of Simon Snow is a ghost story, a love story and a mystery. It has just as much kissing and talking as you'd expect from a Rainbow Rowell story – but far, far more monsters.
Carry On is one of those rare books where I read over 90% of this 500+ page book in a day. I have to say, I didn't expect to like this book nearly as much as I did. I haven't read Fangirl, but knew that this was essentially a book within a book that became its own book, which hardly attracted me. In addition, it was reviewed widely as basically  a Harry Potter fanfic, which worried me. I'm as obsessed with HP as any reader, but a spin-off written by a contemporary author? Seriously? Well, Carry On was all of those things: romancy, a spin-off, and a copy of Harry Potter from start to finish. And I loved every bit of it.
So I'm going to talk about Carry On as its own book, and not as a Fangirl related one, probably because I haven't read the latter (I know, sue me). This book is about Simon Snow, a super powerful orphan mage referred to as "The Chosen One," prophesied to defeat an evil connected to him in some way. Currently, he attends the Watford School of Magicks, where he studies with his two best friends and enemy/rival, who Simon initially suspects is up to no good. Sound familiar?
The comparisons to HP were overwhelming at first, and I definitely wasn't sold on Simon's obsession with his rival Baz's disappearance. However, as I read on (and once Baz finally showed up), I began to enjoy the book much more and note the differences between this and Harry Potter. There are no school houses, for one. The spells are also common English phrases, and wands are not the only way of harnessing power. The world and class differences/tension are similar, but developed in a different way.
But what truly sold me were the characters. Simon is very adorable, and his best friend Penelope is all kinds of awesome. Baz, as well, is (secretly) super cute and his interactions with Simon had me squealing on the floor. The character relationships were surprisingly layered and very enjoyable to read. I also liked Simon's relationships with the adults in his life, particularly the Mage.
The romance between Baz and Simon somehow wasn't forced, either. My initial worry (knowing Rowell's standard style of writing) was that there'd be more kissing than actual substance, but that wasn't really the case. Although Baz's love for Simon was a bit bluntly stated in the beginning, they don't actually kiss until page 343-ish, which I was very happy about. Overall, the romance and characters were so much fun that I was more than happy to overlook the obvious flaws of this book.
Oh, the flaws. I wish I didn't have to cover this but I consider it my obligation as a reviewer. I gave this book a very high rating simply on the basis of how much I relished it, but it cannot be ignored that the plot is, well… nonexistent. The "Voldemort" of this book, the Insidious Humdrum, takes a back seat to the Simon-Baz tension and there's no real effort made on Simon's part to defeat it. Most of the story revolves around figuring out who murdered Baz's mom, but progress is excruciatingly slow. While Harry Potter also rarely had Voldemort show up for the majority of the book, the time was spent on world-building, foreshadowing, and attending classes. I don't think I can name a single class Simon attended (because they were so inconsequential), and there was no growing mystery or a sense of foreboding. There just… wasn't much of a plot.
This may sound like a game-killer for you, and if you're considering scrolling away to some other book, think again. Despite everything, if you're a character-driven reader looking for a cute read, please try Carry On. I hope you don't regret it, because I certainly didn't. 🙂
~Liz