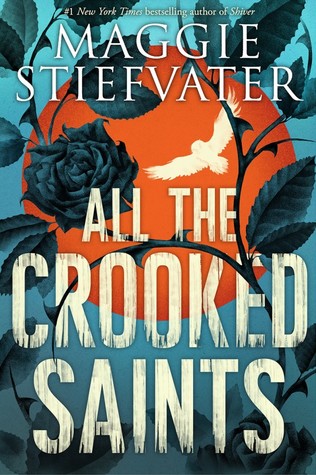 Here is a thing everyone wants: a miracle.
Here is a thing everyone fears: what it takes to get one.
Any visitor to Bicho Raro, Colorado is likely to find a landscape of dark saints, forbidden love, scientific dreams, miracle-mad owls, estranged affections, one or two orphans, and a sky full of watchful desert stars.
At the heart of this place you will find the Soria family, who all have the ability to perform unusual miracles. And at the heart of this family are three cousins longing to change its future: Beatriz, the girl without feelings, who wants only to be free to examine her thoughts; Daniel, the Saint of Bicho Raro, who performs miracles for everyone but himself; and Joaquin, who spends his nights running a renegade radio station under the name Diablo Diablo.
They are all looking for a miracle. But the miracles of Bicho Raro are never quite what you expect.
Stiefvater never fails to surprise me with her imaginative, atmospheric, fleshed-out novels. All The Crooked Saints is in all aspects, a very strange and unique story that seems to differ from most YA magical realism books in the writing, plotting, and introduction of characters. Stiefvater's trademark style might run off the rails in the hands of another author, but the many elements of this novel that make it different, actually WORK. Not all the time, but often enough to make it one of the most intriguing stories I've ever read.
To start off, Stiefvater does do a few things differently in this novel when she introduces a setting, character, or certain situation. The beginnings of each chapter are usually characterized by a viewpoint of an abstract idea that is later connected to something important in the chapter. It could be a description of an area, an exploration of a theme, or simply a process of how something works. I will admit that this took some time to get used to and it was probably the only element that hindered me from enjoying this book to the maximum. Some of these musings turn into ramblings that take us nowhere, and by then it's easy to lose interest. I could attribute this to the reason why this book felt so short yet so long, as it took me nearly 5 days to read when it should have been barely 3. However, I could also attribute it to my everlasting homework and duties to reading Pride And Prejudice for AP Lit. Side note: Screw you, AP Lit.
However, the prose in general was excellent, as expected. I've always adored Stiefvater's writing, the way she can concoct a tangible atmosphere by infusing her magic into the most mundane features of a desert is amazing. Atmospheric writing is my favorite thing, and I would consider Stiefvater to be the queen of it. The exploration of themes such as love, fear, family, identity, and much more blend in perfectly with the aesthetic that is consistently kept up, and I love how whole and full every aspect of the story feels. The composition gives us a feeling of looking at this setting and set of characters from a birds-eye view, but everything can still be seen so clearly. Does that make sense? It's probably one of those things you must experience to understand it.
The fantasy aspect of the novel was classic magical realism with its own twists and turns. The theories behind the miracles, pilgrims, Saints, and the Soria family legacy were all carefully unfolded throughout the course of the novel, and I loved how the tone was simultaneously dark and light while talking of the events that have taken place in Bicho Raro. The story still keeps the natural whimsical, weird, and magical feel that every magical realism novel has while adding its own unique touches.
Unsurprisingly, Stiefvater tackles a large ensemble cast and happens to tell their individual stories in a third person omniscient viewpoint. It's a grand idea that is difficult to execute, but Stiefvater manages to nail it. Our main three characters, Beatriz, Daniel, and Joaquin are all equally developed but Beatriz definitely stuck out to me the most. I understood and related to her struggle to express herself and break out of the 'no feelings' shell that she has been comfortable in for so long. While those three are mainly highlighted, every single character has equal page time and equal characterization. Pete, Tony, Marisita, Jennie and the entire Soria family are all so well-developed and layered, Stiefvater manages to tell each one of their stories with such emotion and purpose.
All The Crooked Saints is a magical, bizarre, warm, dark, atmospheric exploration of the deepest parts of human nature and self. It's truly one of a kind and I would urge to all to hop on the hype train before it's too late and read it as soon as you can. You won't be disappointed.
Rating: 4 stars
Thanks for viewing, fellow readers! Let me know your thoughts below! 🙂