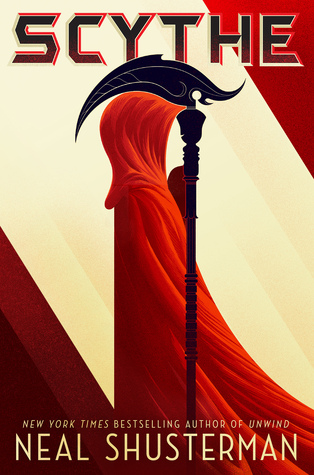 3 Stars
Thou shalt kill.
A world with no hunger, no disease, no war, no misery. Humanity has conquered all those things, and has even conquered death. Now scythes are the only ones who can end life—and they are commanded to do so, in order to keep the size of the population under control.
Citra and Rowan are chosen to apprentice to a scythe—a role that neither wants. These teens must master the "art" of taking life, knowing that the consequence of failure could mean losing their own.
I am a ginormous fan of Shusterman's Unwind, and I rank it among some of my all time favorite books. I was used to his style of dystopia: the ones that were so well crafted, they barely felt like a teen dystopian novel in how much they made you think. Scythe's premise contains all of these trademark Shusterman elements and after hearing him read the first chapter put loud when he visited my school (it was an interesting experience), I was thoroughly intrigued. However, this book, although enjoyable, fell flat in so many ways: the characters, the predictable plot twists, and just the way it dragged.
Scythe is about a utopian future where humans have achieved everything they've ever aspired to achieve (such as immortality), and as a result, need to curb population growth by installing scythes, who are the only people who can cause death by "gleaning" (aka killing) people. Our main characters are Citra and Rowan, who have been chosen as scythe apprentices- a position they don't want, according to the blurb.
This premise sounded great to me, but immediately after starting the book, I began to see some discrepancies. Citra and Rowan, while they do dislike the act of gleaning, both accepted the position of scythe's apprentice, meaning they absolutely had a choice in this, unlike what the blurb implies. Their characters are not too three-dimensional, and I didn't care much about them until they started diverging and going on different paths. My biggest problem with this book, and what probably contributed to a certain degree of boredom, was the lack of risk in anything. In this utopian world, anyone who accidentally dies is automatically brought back to life in revival centers, and can only be truly killed if they are gleaned by a scythe. This eliminated any concern I had for the characters, because their lives were never really at stake.
However, despite what I may have implied so far, I didn't dislike this book. Scythe Curie and Scythe Faraday were fascinating characters, and the world did feel like a utopia. The plot did move slowly, but wasn't unbearably so, and was overall an enjoyable book.
Writing this review a few weeks after reading the book has changed my initial view of it, I would have to say, as the faults seemed to rise above the fray and distinguish themselves more so in my mind with time. However, I would be remiss to disregard the Neal Shusterman spark that his books always have. Despite Scythe being one of his more subpar works, it does make you think to some regard, and that, I believe, is the most important trait of them all.
-Liz