Hello everyone! I hope everyone had a great book-filled January. I was incredibly busy this month (AP Psych takes all the energy out of me -__-), so I didn't get to read as much as I wanted. But, I'm definitely hyped for these February releases. Let's get into it!
1. Wintersong by S. Jae-Jones – Coming February 7th, 2017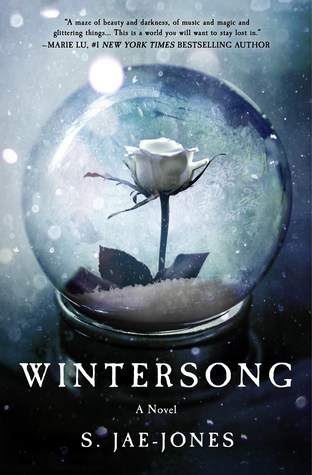 Beware the goblin men and the wares they sell.
All her life, nineteen-year-old Liesl has heard tales of the beautiful, mysterious Goblin King. He is the Lord of Mischief, the Ruler Underground, and the muse around which her music is composed. Yet, as Liesl helps shoulder the burden of running her family's inn, her dreams of composition and childish fancies about the Goblin King must be set aside in favor of more practical concerns.
But when her sister Käthe is taken by the goblins, Liesl journeys to their realm to rescue her sister and return her to the world above. The Goblin King agrees to let Käthe go—for a price. The life of a maiden must be given to the land, in accordance with the old laws. A life for a life, he says. Without sacrifice, nothing good can grow. Without death, there can be no rebirth. In exchange for her sister's freedom, Liesl offers her hand in marriage to the Goblin King. He accepts.
Down in the Underground, Liesl discovers that the Goblin King still inspires her—musically, physically, emotionally. Yet even as her talent blossoms, Liesl's life is slowly fading away, the price she paid for becoming the Goblin King's bride. As the two of them grow closer, they must learn just what it is they are each willing to sacrifice: her life, her music, or the end of the world.
Wintersong sounds extremely rich and dynamic, I'm expecting great world-building to match with that beautiful cover!
2. Starfall, by Melissa Landers – Coming February 7th, 2017
When Princess Cassia Rose fled her home world of Eturia to escape an arranged marriage, she had no idea her sudden departure would spark a war. Now after two years hiding as a ship hand, she is finally returning to her beloved home, but not in the way she imagined. Shackled by bounty hunters, she is violently dragged back to account for her crimes. Her only solace is that the Banshee crew managed to evade capture, including Kane Arric, her best friend…with occasional benefits.
Meanwhile, Kane and the rest of the crew of the Banshee plan a desperate rescue mission. But when they arrive on Eturia, Cassia isn't exactly in need of heroics—she's claimed her birthright as Eturia's queen, but has inherited a war-torn planet simmering with rebellion. Cassia must make alliances, and Kane, the bastard son of a merchant, isn't a choice that will earn her any friends. Kane knows he will never find someone to replace Cassia—and is certain she returns his feelings—but how can he throw away his own promising future waiting on a queen?
When the outer realm is threatened by the dangerous Zhang mafia, Cassia, Kane and the rest of the Banshee crew uncover a horrifying conspiracy that endangers the entire universe. In the face of unspeakable evil, Cassia must confront her own family's complicated legacy on Eturia and decide once and for all who her real family is.
I've read the first book of this series, Starflight, a while ago and I really enjoyed it. This book will be told in Cassia's perspective, who actually used to a supporting character in the first book. I think this is a great idea, as I've been dying to know more about her character, and I'm equally dying to know where Landers is going to take this exciting space opera!
3. We Are Okay, by Nina LaCour – Coming February 24th, 2017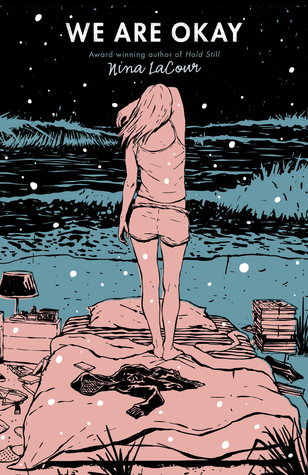 "You go through life thinking there's so much you need. . . . Until you leave with only your phone, your wallet, and a picture of your mother."
Marin hasn't spoken to anyone from her old life since the day she left everything behind. No one knows the truth about those final weeks. Not even her best friend Mabel. But even thousands of miles away from the California coast, at college in New York, Marin still feels the pull of the life and tragedy she's tried to outrun. Now, months later, alone in an emptied dorm for winter break, Marin waits. Mabel is coming to visit and Marin will be forced to face everything that's been left unsaid and finally confront the loneliness that has made a home in her heart.
This definitely sounds like an emotional read with a mysterious air to it. While some of these books leave me a tad depressed and hollowed-out, a well-written book is a well-written book, and I appreciate those types of characteristics. I'm most certainly hyped.
4. The Hate U Give by Angie Thomas – Coming February 28th, 2017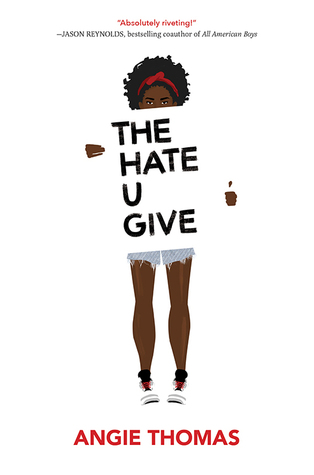 Sixteen-year-old Starr lives in two worlds: the poor neighbourhood where she was born and raised and her posh high school in the suburbs. The uneasy balance between them is shattered when Starr is the only witness to the fatal shooting of her unarmed best friend, Khalil, by a police officer. Now what Starr says could destroy her community. It could also get her killed. Inspired by the Black Lives Matter movement, this is a powerful and gripping YA novel about one girl's struggle for justice. Movie rights have been sold to Fox, with Amandla Stenberg (The Hunger Games) to star.
I love the idea behind this novel — with the recent events taking place in the black community, I think it's amazing and important that The Hate U Give wants to deliver a story based on something so relevant today. I'm really looking forward this novel.
Gardenia, by Kelsey Sutton – Coming February 24th, 2017
Seventeen-year-old Ivy Erickson has one month, twenty-seven days, four hours, fifty-nine minutes, and two seconds to live.
Ever since she was a child, Ivy has been able to see countdown clocks over everyone's heads indicating how long before they will die. She can't do anything about anyone else's, nor can she do anything about her own, which will hit the zero hour before she even graduates high school.
A life cut short is tragic, but Ivy does her best to make the most of it. She struggles emotionally with her deep love for on-again, off-again boyfriend Myers Patripski. She struggles financially, working outside of school to help her mom and her sister. And she struggles to cope with the murder of her best friend, another life she couldn't save. Vanessa Donovan was killed in the woods, and everyone in town believes Ivy had something to do with it.
Then more girls start disappearing. Ivy tries to put her own life in order as she pieces together the truth of who ended Vanessa's. To save lives and for her own sanity.
The clock is always ticking. And Ivy's only hope is to expose the truth before it runs out completely.
I've actually recently finished this book through an ARC, and I definitely think it's worth a read. While the mystery/ thriller aspect isn't as fleshed out as I wanted it to be, it carries a huge emotional capacity with its writing and characters. A more detailed review is coming soon.
That's it, guys! I hope you all have a great rest of the month! 🙂
-Haven