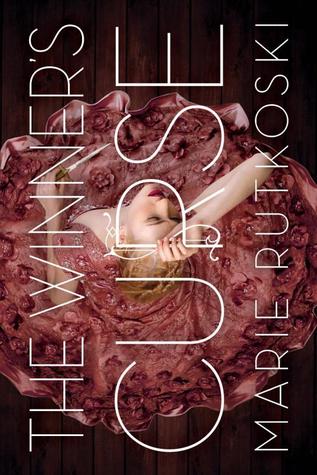 Winning what you want may cost you everything you love.
As a general's daughter in a vast empire that revels in war and enslaves those it conquers, seventeen-year-old Kestrel has two choices: she can join the military or get married. But Kestrel has other intentions. One day, she is startled to find a kindred spirit in a young slave up for auction.
Arin's eyes seem to defy everything and everyone. Following her instinct, Kestrel buys him—with unexpected consequences. It's not long before she has to hide her growing love for Arin. But he, too, has a secret, and Kestrel quickly learns that the price she paid for a fellow human is much higher than she ever could have imagined.
Set in a richly imagined new world, The Winner's Curse by Marie Rutkoski is a story of deadly games where everything is at stake, and the gamble is whether you will keep your head or lose your heart.
I read The Winner's Curse for the first time approximately 2 years ago (interestingly, in April too 0.0), and I rated it 4 stars. I also put it in my 'awesomeness' shelf on Goodreads, yet never happened to fully review it. Why, I decided not to review it, will always be mysterious to me, perhaps I didn't enjoy it as much as I thought it did and was going along with the extensive hype it had during the time. I'll never know, but after this re-read (originally in preparation for the sequel I had pretty much ignored), my opinions have changed drastically. I don't know what my original opinions were, but I've noticed so many aspects that are lacking, faulty, or underdeveloped in this book and I can only attribute it to my changed tastes and possible iffiness on the book initially.
The underdeveloped world-building and flat atmosphere: The Winner's Curse is extremely lacking in world-building. Glaringly lacking. The only elements that display a semblance of a setting, are the facts that we already know from the summary: the Herrani have been enslaved under the Valorians for a good amount of time and Valorians are masterful warriors. Valorian culture itself is hardly touched upon in the book, and there are only about 2-3 paragraphs in the entire that explain how they conquered the Herrani in minor detail. The Herrani were supposed to be a cultured and highly advanced country, however none of that richness is touched upon at all. I have no sense of the Herrani traditions, religion, and social norms, or the Valorians' culture besides their obvious military power. Arin and other Herrani mention things like, 'the god of lies' or 'the god of madness' but who are these gods?? Why are they mentioned? What significance do they carry to the Valorians and Herrani themselves? Kestrel goes to many parties and functions throughout the course of this book, yet I have no idea how society works and what the atmosphere of the aristocrats is. There isn't even an atmosphere at all, actually. While the writing is quite nice and even beautiful at times, it is severely lacking in detail when it comes to description. Most of the time I do not know what anything looks like, such as the governor's palace or the market place that are briefly mentioned yet not described at all. I don't know what the aesthetic is, and by this I'm not talking about tumblr or some shit. I'm saying that I do not know what to picture as the story goes on, because there is no sense of setting at all.
What is even worse, is the fact that I cannot muster any feelings for the Valorians or Herrani slaves because I know absolutely nothing about them. We are only told that the Herrani are treated terribly, but there are hardly any examples of this treatment. There are only vague references to murder and mistreatment, but we never get to hear any stories or see any of this. In fact, this book's concept of slavery is not even fully executed. The book shies away from everything that makes enslavement a brutal, terrible thing and covers it up with Kestrel and Arin's vague and unexplored thoughts about whatever. So how am I supposed to sympathize with the Herrani? How do I make myself root for them or want for them to succeed and acquire the justice they supposedly deserve? Telling is most certainly not showing, and this book is almost all telling. The Valorians are just as flat, and I'm honestly confused if I am supposed to hate them or like them, or feel anything for them really. They are all talk and no show, the Valorians are only deemed 'cruel' do to their capture of the Herrani, yet I cannot believe in that cruelty because are hardly any places in the book in which a Valorian even interacts with a slave. I have no idea what the dynamic between a Valorian and Herrani is, and it is embarrassingly clear that the slavery concept was partially created for the sake of star-crossed lovers and an angsty romance.
Dear god, I am ripping this book apart.
The equally boring characters (except for Kestrel, thank god): There are a majority of characters in this book that are nameless, which is unfortunate since they could have added to the emotional aspect of this book, but the characters that do have names are so useless and drab, they might as well have been nameless. Arin doesn't have much of a personality, he is monotone and emotionless throughout, and while that might just be his 'character', I was really waiting for him to blow up and show some emotion. It doesn't have to be explosive, I just need to know he's alive every now and then, because this man has barely any presence. Kestrel's social circle, Jess, Ronan, Benix, and Irex are equally pointless and somewhat one-dimensional characters that are only meant to up Kestrel's angst and give her more to think about other than Arin. Kestrel herself is a great character, I love her shrewd, cunning nature and how she is constantly plotting something. She's smart, but is not met with surprise and unnecessary praise whenever she shows it off. My only problem with her rests in her thoughts for Arin, leading us into the dreaded romance section.
A confusing, and dare I say it, baseless love story: I honestly have no idea where the hell the romance between Arin and Kestrel came from. In the very beginning of the story, Kestrel buys Arin for practically no reason (she lowkey states this) just to move the plot along, and they barely interact throughout, because um, he's a slave! Most of their 'interactions' are both of them staring at each other across the room at parties Kestrel attends, and these instances end up in one of them choosing to leave. The only time where they actually spend some time together is when they play Bite And Sting (a card game) together. I don't understand what made Arin fall in love with Kestrel and what Kestrel saw in Arin. Kestrel never even sympathizes or tries to understand Arin's struggle with slavery, and whatever motivates her to worry about or think about him is clearly not expanded on in the least. Arin is equally vague and superficial with his feelings for Kestrel. He doesn't show any signs of attraction toward Kestrel and is pretty indifferent to her outings throughout the book. They are both separate in terms of interest and class but suddenly, a romance! Attraction! Angst! How did this happen? Someone enlighten me, I'm serious.
Putting aside my disdain and disappointment in everything listed above, I can recognize some positive aspects of the book. The writing is beautiful, and while it isn't so special to absolutely blow you away, many of the ideas communicated are not forceful and said well-enough to make me feel something or another. I appreciated the effort to explore military tactics and overall strategic and political nature of the last few chapters. One thing this book does do right, is that it actually talks of more serious elements existing in fantasy worlds, politics and military and war. Unsurprisingly, this side of the book is only brought out in the last few chapters, and also unsurprisingly, I didn't care enough by that time to read these strategies fully. But, they are well-thought out and some discussion I enjoyed.
This review is absolutely brutal and a complete 180 from what I thought it would be, but I'm glad I finally got my feelings down. I am still going to read the second book regardless of my indifference for this one, in hopes of it being better. Pray for me.
-Haven