Happy New Year! Can you believe 2017 is over already? It seems to have gone by so fast (probably because we're all still talking about 2016) but 2018 is going to be great, I know it. It happens to be the year Haven and I graduate from high school (woot!) so we are super psyched and simultaneously terrified. Anyway, here are some books to get your read on this January!
1. Unearthed, by Amie Kaufman and Meagan Spooner – Coming January 9th, 2018
When Earth intercepts a message from a long-extinct alien race, it seems like the solution the planet has been waiting for. The Undying's advanced technology has the potential to undo environmental damage and turn lives around, and Gaia, their former home planet, is a treasure trove waiting to be uncovered.
For Jules Addison and his fellow scholars, the discovery of an alien culture offers unprecedented opportunity for study… as long as scavengers like Amelia Radcliffe don't loot everything first. Mia and Jules' different reasons for smuggling themselves onto Gaia put them immediately at odds, but after escaping a dangerous confrontation with other scavvers, they form a fragile alliance.
In order to penetrate the Undying temple and reach the tech and information hidden within, the two must decode the ancient race's secrets and survive their traps. But the more they learn about the Undying, the more their presence in the temple seems to be part of a grand design that could spell the end of the human race…
It's another Kaufman and Spooner pair up! Cheesy as it was (and I know there were other flaws but whatever), I loved the Starbound series, with its sweet romances and fun characters in sci-fi universes. Therefore I could not be more psyched to read Unearthed.
2. Batman: Nightwalker, by Marie Lu – Coming January 2nd – 2018
Before he was Batman, he was Bruce Wayne. A reckless boy willing to break the rules for a girl who may be his worst enemy.
The Nightwalkers are terrorizing Gotham City, and Bruce Wayne is next on their list.
One by one, the city's elites are being executed as their mansions' security systems turn against them, trapping them like prey. Meanwhile, Bruce is turning eighteen and about to inherit his family's fortune, not to mention the keys to Wayne Enterprises and all the tech gadgetry his heart could ever desire. But after a run-in with the police, he's forced to do community service at Arkham Asylum, the infamous prison that holds the city's most brutal criminals.
Madeleine Wallace is a brilliant killer . . . and Bruce's only hope.
In Arkham, Bruce meets Madeleine, a brilliant girl with ties to the Nightwalkers. What is she hiding? And why will she speak only to Bruce? Madeleine is the mystery Bruce must unravel. But is he getting her to divulge her secrets, or is he feeding her the information she needs to bring Gotham City to its knees? Bruce will walk the dark line between trust and betrayal as the Nightwalkers circle closer.
Ironically enough, I watched The Lego Batman Movie yesterday, so that's the version of Batman currently in my mind. Still, Lu is a great author, and Batman is a classic icon, so I'm sure DC fans will be happy. (I love Batman plenty, but will always be a Marvel fan. Apologies! 😉 )
3. Love, Hate, and Other Filters, by Samira Ahmed – Coming January 16th, 2018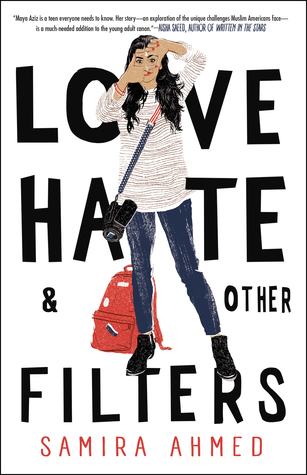 A searing #OwnVoices coming-of-age debut in which an Indian-American Muslim teen confronts Islamophobia and a reality she can neither explain nor escape–perfect for fans of Angie Thomas, Jacqueline Woodson, and Adam Silvera.
American-born seventeen-year-old Maya Aziz is torn between worlds. There's the proper one her parents expect for their good Indian daughter: attending a college close to their suburban Chicago home, and being paired off with an older Muslim boy her mom deems "suitable." And then there is the world of her dreams: going to film school and living in New York City—and maybe (just maybe) pursuing a boy she's known from afar since grade school, a boy who's finally falling into her orbit at school.
There's also the real world, beyond Maya's control. In the aftermath of a horrific crime perpetrated hundreds of miles away, her life is turned upside down. The community she's known since birth becomes unrecognizable; neighbors and classmates alike are consumed with fear, bigotry, and hatred. Ultimately, Maya must find the strength within to determine where she truly belongs.
Yes! More realistic fiction novels tackling controversial real-world issues about race and religion! I'm always a fan of Indian representation (although it's not always carried out well) and Muslim protagonists are rare but welcome, so who knows? Maybe this book can be the The Hate You Give of 2018.
4. Say You'll Remember Me, by Katie McGarry – Coming January 30th, 2018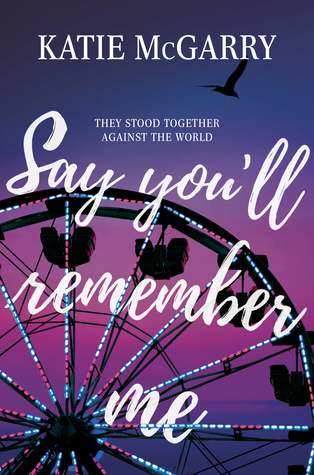 When Drix was convicted of a crime–one he didn't commit–he thought his life was over. But opportunity came with the new Second Chance Program, the governor's newest pet project to get delinquents off the streets, rehabilitated and back into society. Drix knows this is his chance to get his life back on track, even if it means being paraded in front of reporters for a while.
Elle knows she lives a life of privilege. As the governor's daughter, she can open doors with her name alone. But the expectations and pressure to be someone she isn't may be too much to handle. She wants to follow her own path, whatever that means.
When Drix and Elle meet, their connection is immediate, but so are their problems. Drix is not the type of boy Elle's parents have in mind for her, and Elle is not the kind of girl who can understand Drix's messy life.
But sometimes love can breach all barriers.
Fighting against a society that can't imagine them together, Drix and Elle must push themselves–Drix to confront the truth of the robbery, and Elle to assert her independence–and each other to finally get what they deserve.
Okay, I'll admit, the blurb wasn't 100% enticing to me, because as soon as I saw "experimental program," I was getting these The Program vibes I did not want to get near. However, this is a Katie McGarry book. I have read a great many of these books and she excels at writing awesome contemporary relationships with super angsty teenagers. Reviews are good, so I'm keeping my hopes up!
It was hard to narrow it down, but that's it! Happy reading!
What are your New Year's Resolutions? Comment below!
~Liz