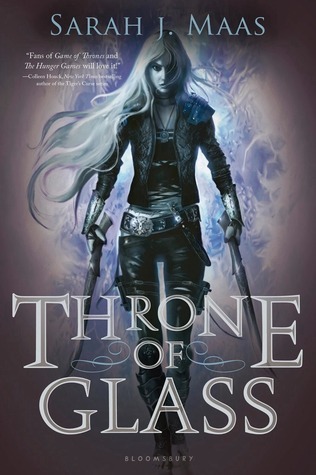 Rating: 3.75 stars
"You could rattle the stars," she whispered. "You could do anything, if only you dared. And deep down, you know it, too. That's what scares you most."
In a land without magic, where the king rules with an iron hand, an assassin is summoned to the castle. She comes not to kill the king, but to win her freedom. If she defeats twenty-three killers, thieves, and warriors in a competition, she is released from prison to serve as the king's champion. Her name is Celaena Sardothien.
The Crown Prince will provoke her. The Captain of the Guard will protect her. But something evil dwells in the castle of glass–and it's there to kill. When her competitors start dying one by one, Celaena's fight for freedom becomes a fight for survival, and a desperate quest to root out the evil before it destroys her world.
I guess this is another case of "it's not you, it's me". 3.75 stars isn't entirely bad, but I've had high-ish expectations of Throne Of Glass for a while, since I've been hearing a lot about it in the YA world as well as Aliza.
Let me begin with saying that Maas is a very talented writer. Her writing was sophisticated, lyrical, and very enrapturing. I wasn't bored even for a slight moment. I also really liked the fantasy elements and the world-building in this book. I'm a sucker for a medieval-fantasy, and though I haven't read many of them, I've always been interested. The Throne Of Glass world is like any medieval-fantasy, expect that magic is outlawed, and has pretty much vanished. I found this concept really intriguing, since most fantasy worlds nowadays contain a lot of magic or anything supernatural. The disappearance-of-magic paved the way for mystery in the book nicely. Unfortunately, I thought that the fantasy elements and the rest of the story weren't balanced as well. I can't say which parts outweighed each other, but they weren't balanced for sure. I wanted more history of the fae and the disappearance of magic, but all I got was Celaena, Celaena, and more Celaena!