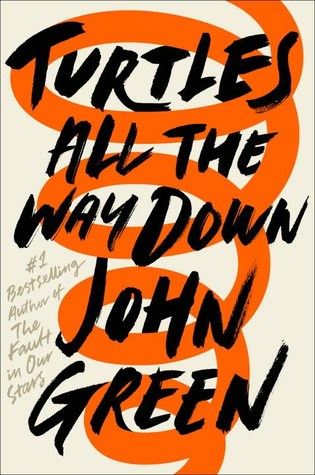 2 1/2 stars
Sixteen-year-old Aza never intended to pursue the mystery of fugitive billionaire Russell Pickett, but there's a hundred-thousand-dollar reward at stake and her Best and Most Fearless Friend, Daisy, is eager to investigate. So together, they navigate the short distance and broad divides that separate them from Russell Pickett's son, Davis.
Aza is trying. She is trying to be a good daughter, a good friend, a good student, and maybe even a good detective, while also living within the ever-tightening spiral of her own thoughts. 
In his long-awaited return, John Green, the acclaimed, award-winning author of Looking for Alaska and The Fault in Our Stars, shares Aza's story with shattering, unflinching clarity in this brilliant novel of love, resilience, and the power of lifelong friendship.
I don't need to debrief you guys on my complicated history with John Green. I claim to either love or hate his books, but they're all found on my 'meh' shelf, precisely because I understand the struggles behind his characters but don't quite agree with how they are expressed. Turtles All The Way Down is no exception to this, while I commend Green for exploring mental illness, perhaps spending more time on further characterizing Aza as something other than her illness would have helped. Perhaps it would have stalled the book's eventual descent into the regular philosophical, pretentious, unrealistic shit Green just seems to love.
Turtles All The Way Down mainly focuses on Aza's OCD and anxiety issues clearly, and one can tell right off the bat that much research definitely went into crafting a realistic portrayal. Aza's compulsions and constant thoughts were written pretty accurately, and I especially loved the inclusion of that little voice of doubt constantly creeping into Aza's life. I also thought Daisy, her mother, and Davis seemed to handle her anxiety realistically, even if it wasn't handled well. However, I felt as though Aza's entire character was marked by her OCD and anxiety, making her a total caricature of her illness. Her narration consisted of nothing other than her 'spiraling of thoughts' and I honestly do not know anything about her personality apart from her anxiety and OCD.
Unfortunately, I found the other characters in the book to be replicas of every other teenager John Green has created in his novels. Daisy and David were likable at first but later just became annoying. While I did appreciate the small pockets of complexity the side characters showed, it wasn't enough to make them memorable. They demonstrated the same amount of superficial complexity that all of Green's characters show, precisely due to the same unbelievable, pretentious, overly philosophical thoughts and discussions they have. I like abstract concepts and the stuff they talk about in this book, but literally NOBODY extends that shit to the point where you're talking about the universe, just randomly and bluntly. If someone started talking all this shit about the universe and astronomy out of nowhere, as a way to start a conversation, my ass would get the hell away. It's just too artificial to me.
Regardless of all these character complaints, the book in general was just boring. Again, while I appreciate the tackling of an important subject here, Green's habit of simply re-hashing his plots and characters kind of defeats the purpose of bringing a new, fresh idea to the table in a new book. I wasn't surprised to see the completely random and pointless subplot of Davis's missing billionaire father, which doesn't contribute anything to the message of the story. I suppose it was a means to inject some life into the book, but you can't revive something that wasn't there in the first place. *shrugs*
After gathering my thoughts fully, it does perplex me how I haven't rated Turtles All The Way Down a much lower rating. The truth is, the book had its special moments where I thought it actually had something going for it, but its eventual descent into John Green land where uber-intelligent teenagers randomly discuss oblivion and astronomy and introspection like it's high school gossip, just ruined things for me. I can't roll with it, and unless Green tries something new, I won't be able to rate any of his books higher than three stars.