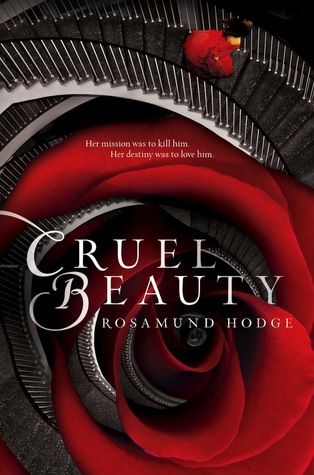 Rating: 4 Stars
Graceling meets Beauty and the Beast in this sweeping fantasy about one girl's journey to fulfill her destiny and the monster who gets in her way-by stealing her heart.
Based on the classic fairy tale Beauty and the Beast, Cruel Beauty is a dazzling love story about our deepest desires and their power to change our destiny.
Since birth, Nyx has been betrothed to the evil ruler of her kingdom-all because of a foolish bargain struck by her father. And since birth, she has been in training to kill him.
With no choice but to fulfill her duty, Nyx resents her family for never trying to save her and hates herself for wanting to escape her fate. Still, on her seventeenth birthday, Nyx abandons everything she's ever known to marry the all-powerful, immortal Ignifex. Her plan? Seduce him, destroy his enchanted castle, and break the nine-hundred-year-old curse he put on her people.
But Ignifex is not at all what Nyx expected. The strangely charming lord beguiles her, and his castle—a shifting maze of magical rooms—enthralls her.
As Nyx searches for a way to free her homeland by uncovering Ignifex's secrets, she finds herself unwillingly drawn to him. Even if she could bring herself to love her sworn enemy, how can she refuse her duty to kill him? With time running out, Nyx must decide what is more important: the future of her kingdom, or the man she was never supposed to love.
I don't think a 100 gifs could explain what emotions I went through while reading Cruel Beauty. It had me like this:
Like this:
Like this:
Like this:
And a million more emotions in between.
If I were to describe Cruel Beauty in one word, it would be: engrossing. The enjoyability rate is high, and I was constantly on the edge of my seat. The writing is no joke, it flows perfectly and is some of the most beautiful writing I've seen all year. The entire novel has a dark, nightmarish tone to it, which I enjoyed. The world-building was very intricate and interesting, but also the reason I docked off a star from my rating. The book is set in an ancient Greco-Roman type world, with magic, mythology, and such. Although it was all very well-developed, it often perplexed and confused me. There were a lot of stories, terms, and other specific things that were hard to keep up with. The story was extremely illustrious and captivating, but also so, so complicated.
Continue reading "Cruel Beauty, by Rosamund Hodge" →