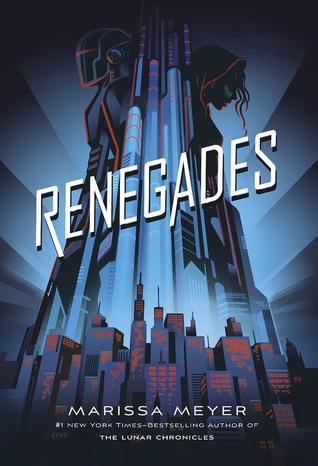 3 Stars
Fun and enjoyable amidst the recent superhero trend, but moves too slowly to contain any substance.
Secret Identities. Extraordinary Powers. She wants vengeance. He wants justice.
The Renegades are a syndicate of prodigies — humans with extraordinary abilities — who emerged from the ruins of a crumbled society and established peace and order where chaos reigned. As champions of justice, they remain a symbol of hope and courage to everyone… except the villains they once overthrew.
Nova has a reason to hate the Renegades, and she is on a mission for vengeance. As she gets closer to her target, she meets Adrian, a Renegade boy who believes in justice — and in Nova. But Nova's allegiance is to a villain who has the power to end them both.
In recent months, it seems, I have become a giant superhero nerd. I've probably watched the trailer for Infinity War about 50 times, and literally wrote a short story about superheroes a month or so ago (don't worry- my fiction writing is still atrocious enough that it'll never see the light of day.) So of course, despite the rather daunting length of this large book, I picked it up because I love superheroes, and the Cinder series has always held a special place in my heart.
So imagine my excitement when Meyer immediately introduces us to a large and varied cast of incredibly diverse and fascinating characters. Huge diversity points were awarded right off the bat for Italian-Filipino Nora, bespectacled, dark-skinned Adrian, Adrian's two super famous dads, and a side character with a disability. There also weren't any real limits to the types of powers the characters could have, and although Adrian's power (bringing anything he draws into the real world) made me wonder why there was any conflict in the book (he can give himself literally ANY POWER), I was initially excited to see how powers would bring our characters to life. Also, references to classic superhero tropes may have pushed some readers away, but just made me smile.
This jubilation that existed in the beginning began to become stale after a while. The characters soon grew old, the tropes overused, and I got through the whole book wondering where the villain, plot, or climax was. The entire book was just a long introduction where nothing of substance happened to develop the characters, plot, or world. Instead, we're left with a cliffhanger and a feeling of betrayal that Meyer would put us through so many pages of anticipation for a big reveal only to leave us with empty promises of deliverance for the next book.
Lackluster plot aside, the characters also lost their shine quickly enough. Adrian and Nora were by far some of the least interesting characters the novel had to offer, simply because their characters were so filled with overused backstories and behavior patterns that they fell flat. Nora is a standard Continue reading "Renegades, by Marissa Meyer (Review)" →