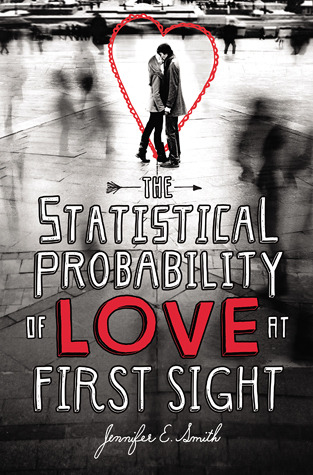 2 stars
Who would have guessed that four minutes could change everything?
Today should be one of the worst days of seventeen-year-old Hadley Sullivan's life. Having missed her flight, she's stuck at JFK airport and late to her father's second wedding, which is taking place in London and involves a soon-to-be stepmother Hadley's never even met. Then she meets the perfect boy in the airport's cramped waiting area. His name is Oliver, he's British, and he's sitting in her row.
A long night on the plane passes in the blink of an eye, and Hadley and Oliver lose track of each other in the airport chaos upon arrival. Can fate intervene to bring them together once more?
Quirks of timing play out in this romantic and cinematic novel about family connections, second chances, and first loves. Set over a twenty-four-hour-period, Hadley and Oliver's story will make you believe that true love finds you when you're least expecting it.
I'm suppose my rating of The Statistical Probability Of Love At First Sight is only another sign that I expect too much from Jennifer E. Smith's fluff novels, but I this time around I held back on the predispositions. With Hello, Goodbye, And Everything In Between, the first Smith book I had read, my problem was the lack of depth in the realistic situations faced by the two MC's, and The Geography Of You And Me fell flat due to its lack of character depth and bland writing. I guess with her debut novel I expected and wanted something plainly cute and fluffy, something to make me happy after the emotional ride that was Dark Triumph. I had high expectations too, considering Aliza had enjoyed it and it was the most well-received out of Smith's other novels. Unfortunately, while I appreciate Smith's concepts concerning relationships, they never reach their full potential because of poor character writing and uninteresting descriptions in general. The Statistical Probability Of Love At First Sight does explore more familial themes that Smith's other books lacked, but due to the forgettable characters, cliches, unmemorable writing, it doesn't really live up to the immense hype it carries.
Firstly, the writing was dull and somewhat stagnant. This might just be me, but for such a short and fast-paced novel, TSPOLAFS (what a long-ass title…I'm never doing that again) is a really draggy read. The writing is far too conventional and just bland in general, and this was especially exemplified during the flashback scenes. I'm sure I would enjoyed whatever was going on in the story if the writing was a bit entertaining and consistent. I do wish the narration was in first person too, it would have contributed to character development just as much as the general writing.
Sadly, the characters weren't as interesting and realistic as I wanted them to be, they were pretty similar to Smith's past characters. Oliver was a cliche character, and while he was funny and cute at moments, there wasn't much depth to him besides those facts. While the later events of the book attempted to change that, I still didn't find him as charming as everyone made him out to be. Hadley herself was certainly more alive then Smith's past characters and I appreciated the inclusion of an inner conflict between her nonacceptance of change and her past love for her father, as she travels reluctantly to her father's wedding in London. While I liked the irrationality of her interpretation of the situation and young honesty of her character, her conflict never seemed to be resolved in a rational way. Hadley's realization was a bit unrealistic and lazily-written, and this fact just reflected her initial brattiness and detached nature. Other than that, Hadley was still a cardboard cutout of a character, and while she sticks out from Smith's collection of novels, she's not particularly memorable in the plethora of female contemporary characters, that are, undeniably, much more well-written.
There were a number of events packed toward the end, yet I had lost interest by then. First of all, this book followed a plot line I had not expected at all. Initially, I had assumed Oliver and Hadley would spend much more time together before kissing and departing. While the story takes place over a 24 hour period, Oliver and Hadley's only time together was on the plane, and here I was expecting a joint-experience a la The Geography Of You And Me, in which our lovebirds spend the night in an airport and bond before separating. Personally, I feel as though that would have been much more romantic than the short time they spent on the plane. A lot of things would have been more romantic than Oliver and Hadley's relationship, actually. They aren't completely lacking in chemistry, the witty banter and flirting was enough to make me smile a tad, but as individuals, they are completely uninteresting. Of course, when they come together they transform into clever, Charles Dickens-loving youngsters, but after their plane experience and all the Hadley blandness, you would have lost interest in their eventual reunion.
Overall, if you have enjoyed Jennifer E. Smith's former novels, you would likely enjoy this one as well. Fortunately (or unfortunately, I don't know), I haven't given up on Smith's books, as This Is What Happy Looks Like remains on my TBR list, and judging by the preview at the end of Love At First Sight, it sounds pretty cute. I can only hope it will satisfy my fluffy/entertaining needs.
-Haven